Intercontinental Cup
Sebastien Migne: Harambee Stars will go for revenge against India
11:25 PM GMT+4
08/06/2018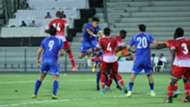 Harambee Stars coach Sebastien Migne says they will be going for revenge when they take on India in the final of a Four-Nation tournament on Sunday.
The Frenchman is still pained by the fact that his team lost 3-0 to India in the first match but has now promised to make amends in the rematch.
Kenya brushed aside Chinese Taipei 4-0 in the final Group stage match on Friday to book a date with India in the final. Dennis Odhiambo started the second-half rout, for Kenya before Jockins Atudo scored twice and Timothy Otieno chipped in with a goal to see off Taipei.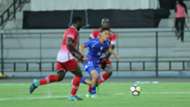 Migne is now confident the team will weather the storm despite India enjoying home ground advantage that includes a parked Mumbai Arena. "We lost to a 12-man team against India, and the 12th man wasn't the fan. I'm not looking for revenge against Indian players because it wasn't their fault but against the team.
"We watched our game against India and we were in the game until 0-0. The referee killed the game, the penalty wasn't needed. India don't need that, they're a strong team," Migne told Goal in India.
Migne added, "I honestly prefer to play against India because stadium will be full, which will be great for my players. The atmosphere was very interesting with the attendance."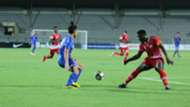 The coach also said he was impressed by the overall performance of his team against Chinese Taipei. "We are very happy to be in the final and it shows the good image of Kenya. We scored from set pieces, which we worked a lot for. I have youngsters and locals; I am proud of them. We need to keep good fitness for final, as we have only two days."
Migne also revealed that two-goal hero Atudo had shared his gift with the players after the match. "Atudo received something for being the best player and he has decided to share with the team. This doesn't happen often."