Southeast Asian Games
Man of the Match: Thailand 1 Myanmar 0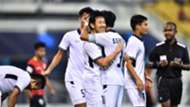 The SEA Games men's football match between Thailand and Myanmar was a tight affair. Defending champions Thailand were given a run for their money by the same side they beat in the previous edition's final match. 
Myanmar were not as threatening as they probably could have been in attack, but in defending they were solid and hard to break down. 
The match remained goalless until almost the end, and for a while it looked like extra time was required.
However the momentum was with the Thais, and with around two minutes left on the clock, Suriya Singmui sent a cross from the left. Forward Chenrop Sampahodi rose the highest in the Myanmar box, and nodded the ball into the net at the far post. Afterwards it just a matter of holding the ball, and when the referee blew his whistle, they booked their place in the final match with a 1-0 win.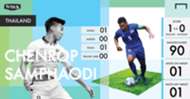 All thanks to a player who prior to his goal, could only register an off-target shot.