UEFA Champions League
Salah wins the Salon d'Or again!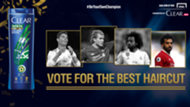 Mohamed Salah has once again proven a cut above his competitors, with the Egyptian having won the Salon d'Or for the second time this season!
In a poll of Goal readers, the Liverpool superstar claimed 51 per cent of the 2200 votes cast before the noon deadline, Which made him the Salon d'OR of CL final.
Salah was followed by Real Madrid superstar Cristiano Ronaldo, who got more than 25% of the votes, while the other place on the podium went to Loris Karius, amid his howlers in the finale.
Marcelo Vieira finished fourth, with 10%of votes, to close the Salon d'Or poll of CL final.