Transfers
Sahko hints at Palace exit as he reveals Champions League desire
12:05 AM GMT+4
22/11/2018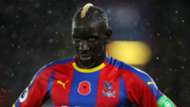 Crystal Palace defender Mamadou Sakho has revealed his desire to compete in the Champions League in the future, which could signal an upcoming departure from Selhurst Park. 
The 28-year-old has been in fine form for Palace this season, and last month earned his first  call-up for France since March 2016.
Sakho started Tuesday night's friendly win over Uruguay, making his first appearance for Les Bleus since 2015. 
The former Liverpool man's return to prominence has sparked rumours he could be looking to leave Palace in favour of a bigger club. 
Sakho bolstered those rumours in an interview with RMC , saying :  "I've always been ambitious, and I've worked to reach the highest levels of football since I was a trainee. Today my ambition remains the same.
"I want to play in the biggest competitions possible. If I said otherwise that would tell you that I lack ambition, and that I am happy with what I've got.
"Why shouldn't the Champions League be on my mind? Ask any Crystal Palace player and they will tell you the same thing.
"A footballer's aim is to play in the biggest tournaments for the best clubs.  If that isn't the case you might as well play video games instead."
With Palace currently 16th in the Premier League, a desire to play Champions League football would require Sakho to move away from Selhurst Park. 
The defender revealed he nearly departed the club in the summer but decided to stay, though he could revisit that decision again in the upcoming off-season. 
"During the summer there were various roads I could have taken - to clubs in Spain, Italy and France - but I opted to stay in England.
"I don't regret it.  When I take a decision I put my head down and go flat out until the end, and I am proud to have made my choice.
"But I will take stock of my situation at the end of the season."
Sakho was pulled off at half-time of France's 1-0 win over Uruguay with a back problem, leaving him in doubt for Crystal Palace's match at Manchester United on Saturday.