South Africa
Safa president Danny Jordaan adamant Bafana Bafana will qualify for the 2019 Afcon finals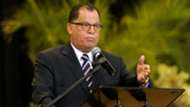 South African Football Association (Safa) president Danny Jordaan has explained why the organisation is yet to hire a permanent assistant coach for the senior national team.
Local tacticians Thabo Senong, Molefi Ntseki, Quinton Fortune and now Shaun Bartlett have all worked with the current Bafana Bafana head coach Stuart Baxter since he was appointed last year.
"It is his choice. Our coaches have always decided who their assistant is," Jordaan said on IOL. 
"From the beginning of time, we've given the coach that responsibility because you know your assistant coach, you must travel with, you must eat with him, you must have breakfast with him, you must walk with him," he continued. 
"We can't give you. You must find someone who is compatible and you can work with. So, he takes the decision,"  he added.
Bafana legend Bartlett, has been serving as Baxter's assistant in the last few game and Jordaan suggests that if Baxter wants to continue with the former striker, he should inform his employers. 
"If his choice is Shaun Bartlett, he must inform us. The ball is in his court," Jordan added.
Bafana need to secure a draw or a win against Libya in March 2018 in order to book their place in next year's Africa Cup of Nations (Afcon) finals. 
Jordaan is confident that South Africa will qualify for the finals which will be hosted by Cameroon.
"This qualification for Afcon should have been a walk in the park. We took four points from Nigeria and took only four points from Seychelles," he said.
"That's an indication that this team has quality and this team doesn't have consistency, but that's not a matter I can resolve.
"It is a technical matter, and the coach must select the players. Players must play, and they must evaluate and so on," Jordaan explained.
Jordaan was asked what would happen if Bafana failed to qualify for Afcon and he said: "We will qualify. We have enough players. The coach must get them and play them. We have a series of friendly matches. He must get a settled team.
"We can deal with Libya. Libya shouldn't be a problem. No one has beaten Bafana in these qualifiers, despite all the problems we've had. We were unhappy because they should have beaten Seychelles," he added. 
"They had opportunities and they didn't (use them). They put us in this situation, and only they can take us out (of this situation)," he concluded.