Portugal
Ronaldo, Kane & Martial star in new Nike advert for Euro 2016
10:22 PM GMT+4
09/06/2016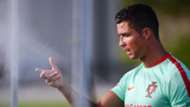 ---

EXTRA TIME
---
The dream of many budding young footballers of emulating Cristiano Ronaldo comes true for one fan in a special new Nike advert released ahead of Euro 2016.
The Portugal forward plays the lead role in the 'The Switch', a six-minute film which sees Ronaldo switch bodies with a fan from England.
Blessed with his hero's skill, the fan rises through the ranks to represent Manchester City and England before going head-to-head with Ronaldo - who has had to learn his own game all over again.
Anthony Martial, Harry Kane and a host of Portugal stars also feature in the advert, which you can watch below in its entirety.