Portugal
Ronaldo fans aside, do any neutrals want this Portugal team to beat France?
10:00 AM GMT+4
10/07/2016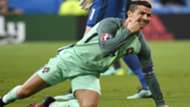 ---

COMMENT
---
In the climactic scene of the legendary western 'Unforgiven', Gene Hackman's villain, Little Bill Daggett, begs Clint Eastwood's anti-hero, Will Munny, for mercy. "I don't deserve to die like this," he insists. Munny replies: "Deserve's got nothing to do with it."
Such was the brutal reality of life in the 'Old West'. Such is the cut-throat nature of modern sport: Cheaters don't always get caught; nice guys rarely finish first; the better team doesn't always win.  
Cristiano Ronaldo feels, though, that Portugal would be worthy recipients of the European Championship trophy in Paris on Sunday evening. "I believe that all these boys deserve it," the Seleccao skipper stated after their semi-final win over Wales. "I deserve it, Portugal deserves it, the fans deserve it - every single Portuguese person deserves it."
No doubt all of his compatriots feel the same way. Most still remember the agony of Euro 2004, when Portugal, as hosts, somehow contrived to begin and close their bid for a first major title with losses to Greece, the weakest side ever to have been crowned champions of Europe.
However, while it was as disappointing as it was frustrating to see the Seleccao's 'Golden Generation' squander the opportunity of a lifetime, at least there was something endearing about Otto Rehhagel's men repeatedly defying the odds on their way to one of the most surprising success stories in the history of the game. It was a minor footballing miracle, much like Leicester lifting the Premier League title last season.
There would be nothing remotely romantic about Portugal winning the European Championship in Paris on Sunday evening, though. Not this Portugal side, at least.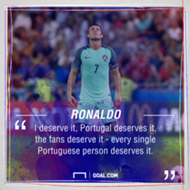 Obviously, it would be the highlight of Ronaldo's already stellar career. Few would begrudge him such a moment of personal glory. Even those that dislike the Real Madrid superstar for his perceived arrogance would find it difficult to dispute his greatness - an international title would only cement his status as a living legend.
However, this Portugal side do not 'deserve' to be in the final. Indeed, they didn't even deserve to get out of what was one of the weakest groups in the tournament. They only did so because the tournament was inflated to inlcude 24 nations, resulting in a ridiculous structure that saw 16 sides progress to the knockout stage - four via third-placed finishes.
Portugal failed to win a game against Iceland, Austria or Hungary. In the last 16, they managed just three shots against a fine football side in Croatia  - yet still went through thanks to their first strike on target. The Seleccao only saw off an equally poor Poland side in the last eight thanks to a penalty shoot-out before finally winning a match inside 90 minutes against a Wales side deprived of one of their two world-class players - Aaron Ramsey, the tournament's joint-top assist-maker, who had been forced to sit out the game through suspension.
With all of that in mind, it is very difficult for any of the purists to support Portugal - particularly as their opponents are France.
Admittedly, it must be acknowledged that the hosts benefitted from a very clear, straightforward route to the semi-finals.However, unlike Portugal, they have generated great excitement along the way. Dimitri Payet provided plenty of late drama in the knockout stage, Antoine Griezmann turned an awkard last-16 clash with Republic of Ireland on its head with two fine goals in the space of three minutes in the second-half, while France's forward line finally cut loose in the 5-2 rout of Iceland, the highest-scoring game in the competition to date.
Griezmann then came up trumps again in the best game of the competition, with his double in France's absorbing 2-0 defeat of Germany now making him a shoo-in for the Golden Boot. The Atletico Madrid ace has six goals already - only Michel Platini has ever scored more at a single European Championship (9) - and France have 13 in total, with Wales the only other side to have reached double figures up until this point.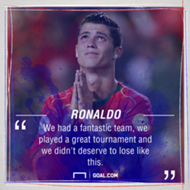 Of course, the final is unsurprisingly being billed as a battle for the Ballon d'Or between Ronaldo and Griezmann, a straight shootout between two men who faced off against one another in the Champions League final some six weeks ago. On that occasion, Griezmann squandered a crucial spot-kick; Ronaldo buried his.
Griezmann will no doubt view the final as a shot at swift redemption, while Ronaldo has been waiting 12 years for his. He was reduced to tears at the end of the 2004 final against Greece.
"We had a fantastic team," the then-teenage forward said. "We have played a great tournament and we didn't deserve to lose like this."
By the same token, though, unless Portugal produce the kind of performance that every single game to date has suggested is beyond them, the Seleccao don't deserve to win Euro 2016. Not this Portugal team. Not like this.
Then again, deserve's got nothing to do with it.