Portugal
'Ronaldo can't even lose at table tennis!' - Evra gives amazing insight into Portugal star
12:40 PM GMT+4
19/06/2018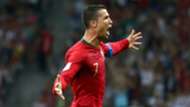 Patrice Evra has revealed the lengths to which Cristiano Ronaldo will go to ensure he wins... even in table tennis!
Ronaldo netted a brilliant hat-trick as Portugal drew 3-3 with Spain in their World Cup opener last week, including a world-class late free-kick.
The goals were evidence of the Real Madrid superstar's ferocious will to win , with Portugal desperate to repeat their surprise Euro 2016 success in Russia.
And his former Manchester United team-mate Evra has given a perfect insight into the perfectionist that Ronaldo has always been, as he bids for glory on the grandest stage.
"With Rio Ferdinand, they were playing table tennis and Rio beat him, and we were all screaming and Ronaldo was so upset," he told ITV .
"Then he sent his cousin to buy a tennis table, he trained for two weeks at home and he came back and he beat Rio in front of everyone.
"So that's Cristiano Ronaldo, so that's why I'm not surprised today why he wants to win another golden ball, why he wants to win the World Cup. Because he's an angry man."
Despite being 33, Ronaldo shows no signs of slowing down, scoring 44 goals in 44 games for Los Blancos this season, helping them win the Champions League.
And Evra insists that his old pal is obsessed with making himself better.
"I would give advice to anybody, when Cristiano invites you for lunch at his house, just say no," Evra joked.

"So he said, 'Patrice, come over after training.' I went, you know I was really tired, [and] at the table there was only salad and plain white chicken so I was like, okay, and water, not any juice and we started eating and I was thinking some big meat would be coming after that but there was nothing.
"He just finished and he stood up and he started playing with a ball, doing some skills and he said, 'Let's do some two-touch.'
"I was like, can I just finish eating? 'No, no let's play two-touch,' we start playing two-touch. After that he said let's go to the pool to swim, I was like okay… And after going in the jacuzzi, the sauna, I'm done.

"I say, 'Cristiano why have we come here, have we come here because we have a game tomorrow, or just for lunch?' So that's why I would recommend to anyone when Cristiano invites you to his house, don't go - just say no because this guy, he's a machine, he doesn't want to stop training."