FFA Cup
Roma's social media love affair with Adelaide United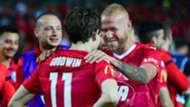 Italian giants Roma have once again proven their Twitter love knows no limits as they showed Adelaide United some affection before and after the FFA Cup final. 
The Reds, who beat Sydney FC 2-1, shared a private message from Roma in the build-up to the game wishing Adelaide luck.
Roma going on to publicly congratulate the Reds on their win to the Italian club's 340,000 English followers.
— AS Roma English (@ASRomaEN) October 31, 2018
Though the show of support may seem strange, Roma have prided themselves on engaging with less known clubs and generally having loads of fun on social media.
This bizarre tweet from the club after beating Barcelona in April being a case and point - with the post in fact becoming the most popular of any football club on social media that month around the world.
— AS Roma (@OfficialASRoma) April 10, 2018
Adelaide have looked to adopt a similar approach to their Twitter game with some quality banter, memes and carefree retweeting making them standout from other A-League clubs on social media.
— Adelaide United (@AdelaideUnited) October 31, 2018
It's perhaps no surprise then that Roma and the Reds have inevitably struck up a social media love affair of sorts and long may the sparks continue to fly!