Liverpool v Roma
Roma can frustrate Liverpool more than Real Madrid or Bayern, says former Red Phil Thompson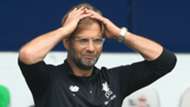 Liverpool have been warned by club legend Phil Thompson that Roma pose a different kind of threat in Champions League competition to that which would have been faced against Real Madrid or Bayern Munich.
The Reds are set to be reunited with a side they pipped to European glory back in 1984 at the semi-final stage of this season's continental campaign.
Jurgen Klopp was quick to play down any suggestion after the last four draw that his side had got off lightly by avoiding the heavyweight duo of Real and Bayern, with Roma having showcased their credentials with a thrilling quarter-final comeback against La Liga giants Barcelona.
Liverpool must now find a way of avoiding heading in the same direction as the Catalans, with Thompson expecting a well-drilled Serie A outfit to offer stubborn resistance against a Reds side which has been free-scoring for much of the 2017-18 season.
The Anfield icon told Sky Sports: "Roma have got the ability to frustrate Liverpool, whereas Manchester City can't do that and Bayern Munich or Real wouldn't do that, so it is a whole different prospect for the team.
"They're direct with Edin Dzeko as the target-man and I'd expect them to target the full-backs with diagonal balls whenever they get into the final third.
"Roma actually played very well in the first-leg against Barcelona and we saw them battle Barca into submission, so we've got to be ready for that.
"We'll have more possession but it is a different sort of game with their defensive strength. Daniele De Rossi is a great defender and a great organiser in front of their backline.
"You want to get off to a good start but, even though we're an attacking outfit, the focus has got be on the defence, to keep the back door shut, as keeping a clean sheet is absolutely crucial because we know what they are capable of back in Rome."
Thompson is confident that Klopp has the defensive tools at his disposal to complement an exciting attacking unit, with a 2-2 draw at Premier League strugglers West Brom last time out offering a timely reminder to all concerned of the standard required against Roma.
The former Reds skipper added: "We have been a lot stronger since Virgil van Dijk has been in the defence, the 'keeper has been better and so have Dejan Lovren, while Trent Alexander-Arnold and Andrew Robertson have been really impressive.
"When Jurgen brought in Joe Gomez and Alberto Moreno it seemed to have unsettled the team, so when West Brom went a bit longer they had some joy, so it was a similar test in terms of bombarding the penalty area rather than trying to pass, pass, pass.
"However, at 2-0 up they were slightly complacent at the end, whereas West Brom were fighting for their lives, and conceding those sort of goals hasn't been the norm for some time now.
"Sometimes you need a kick up the backside and hopefully Saturday will serve as that ahead of dealing with Roma's direct threat."