Anthony Modeste
'I'd always be Lewandowski's back-up' – Bayern move a non-starter for Modeste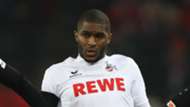 Tianjin Quanjian striker Anthony Modeste is open to a return to Bundesliga but has no interest in playing back-up to Robert Lewandowski at Bayern Munich.
The Frenchman excelled during his two years at Koln, scoring 40 league goals in 68 games before securing a lucrative move to the Chinese Super League.
Germany 13/2 to beat France 1-0
Modeste cost Tianjin a reported £31 million when he moved in July and, although he has seven goals in eight league appearances in China, he was not shy to acknowledge that he is missing Germany.
Only a handful of Bundesliga clubs would be able to afford the 29-year-old these days and when a move to Bayern was put to him, he was quick to rule out such a transfer.
"I'm not someone who sits on the bench behind Lewandowski," he told Express . "You can train as well as you want, you are always his replacement.
"I am 29 years old and have no time to lose. Although I would be German champion with Bayern, I would not like it.
"A footballer always wants to play. Even now, when I am in Cologne for two months in the Chinese seasonal break, I would of course like to go to the Geissbockheim [Cologne's training ground] and work with the boys and play football."
The forward admitted that living in China has been tough so far, but is still happy with the move.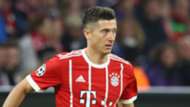 "I live in a large hotel facility. That's better than a flat in the middle of nowhere, but it's not like home," he said. "I've had a lot of new and good experiences in China. However, being alone there without my family is difficult for me. 
"The days are not as busy as in Koln. Usually I'm in the gym in the morning and training in the afternoon. The time in between I usually spend with the teammates who also live in the hotel complex. I'm not the type to explore the city alone.
"In my view, I hardly had any other options. Ultimately, the move was fine for everyone. Koln earned money from selling me. I also have a very good contract myself. I'm satisfied because I can play football and I just love this sport."