Trabzonspor
Robert De Niro and Al Pacino reveal their football colours: Claret red and blue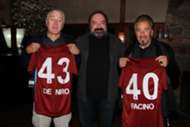 There was no need to make "an offer that they couldn't refuse" to convince Hollywood stars Robert De Niro and Al Pacino to become Trabzonspor fans, but the Turkish club's former board member Nevzat Aydin has managed to win the duo over.
The businessman met the acting legends at Locanda Verde while in New York and sat down for a meal with them before presenting them with personalised Trabzonspor shirts, with Pacino given the No.40 and De Niro getting No.43.
Aydin tweeted pictures of the trio together and insisted the Americans are now true fans of the Super Lig side.
"Two men I'd most like to meet in life," he said. "Modest, charismatic, fatherly and intimate both. It was a delicious meal that lasted longer than 2.5 hours.
"'Now you have a friend in Turkey', I said when I left."
Aydın later told Goal that he discussed films and life more than football with the The Godfather Part II and Heat co-stars over a two-and-a-half-hour meal, admitting it felt as if time "flew by".
"We talked about their upcoming movie The Irishman, not about football," he said. "And we also talked about De Niro's parody on Saturday Night Live with Ben Stiller.
Despite his fame, the protagonist in the Deer Hunter and Raging Bull left Aydin heavily impressed with his down to earth personality.
"Robert De Niro is a funny and paternal. While he was leaving, embraced me incredibly, and he is also very impressive when he talks."
Although De Niro is no huge fan of the sport, Pacino has held more of a long-standing interest in football.
The Scarface actor recorded a video in 2015 wishing Argentina good luck ahead of a Copa America final against Chile because he felt an affiliation to the country.
With the two celebrities joining their fandom, Trabzonspor may have found the perfect counter to Besiktas' world famous #ComeToBesiktas hashtag their fans are using to persuade their transfer targets to join them.