Bayern München
Hungry Robben wants Bayern to learn from mistakes in quest for second Champions League trophy
11:00 AM GMT+4
19/09/2018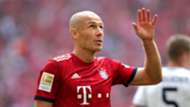 There is no arguing that the Champions League is a rather special competition for Arjen Robben. 
The 34-year-old endured the biggest low of his club career when he missed a penalty in the final of the 2011-12 tournament, leaving Bayern Munich fans in tears as Chelsea lifted the trophy at the Allianz Arena instead.
He found himself at the opposite end of the spectrum a year later, however, netting a Wembley winner against Borussia Dortmund to clinch a historic treble for the Bavarians in what was arguably the highlight of a trophy-laden career.
Robben has since been looking to add a second Champions League title to his CV, but even though Bayern have made it to the semi-finals of the competition in four of the last five seasons, another European crown has so far eluded him.
With the attacker due to turn 35 in January, it has been suggested that this could be his last chance to claim another winners' medal, but Robben is in no mood to worry about his long-term future just yet as Bayern prepare to get their 2018-19 European campaign under way with a trip to Benfica on Wednesday.
"I don't know whether this could be my last chance to win the Champions League; time will tell," Robben told Goal . 
"Either way, it is another chance to win it. Our goal is obviously to go as far as possible. But we are only just about to start the group stages.
"We want to take things one step at a time and ensure we progress to the knockout stages."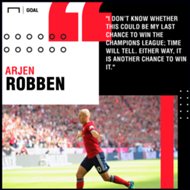 Bayern were unfortunate to miss out on a final berth last term as Real Madrid proved to be just too strong in a spectacular semi-final tie and even if Robben feels some things were out of the Bundesliga giants' control, he has urged his team-mates to learn from previous experiences.
"You always have to learn from what went wrong in the past," he added. "You have to analyse where you can improve.
"Games in the latter stages of the Champions League get decided by small details. Sometimes you have to point the finger at yourself, but sometimes things happen that are outside your own influence sphere.
"But you always have to take things that happen on board and learn from them."
On matchday 2 of the Champions League, Bayern host Eredivisie outfit Ajax, with the Amsterdam side seeing off the likes of Sturm Graz, Standard Liege and Dynamo Kiev to join compatriots PSV in the group stages.
Having two teams in the group stages of the Champions League is a luxury the Eredivisie had not enjoyed for quite some time and Robben is pleased to see his native country's game slowly getting back on their feet after a few difficult years.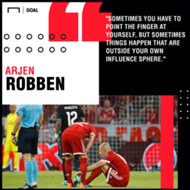 "It's great for Dutch football to have two teams in the mix again," he enthused. "There are some positive developments again, with the national team, but also with PSV and Ajax and that is great to see.
"Dutch football has struggled a bit in recent years, in European club football, but also the national team. Things are now looking good again, though.
"We should not get carried away, but I am happy to see that things are on the rise again. I enjoy watching a team like Ajax, they played some nice football to qualify. The same goes for PSV, so that pleases me."
That being said, Robben and his team-mates are not thinking about next month's encounter with Ajax just yet, regardless of the hype surrounding promising youngsters like Frenkie de Jong and Matthijs de Ligt.
"It's not like we are already talking about specific players," he stressed when asked about the young Netherlands internationals. 
"We play so many games and are not thinking about Ajax yet. We had a Bundesliga match at the weekend and then Benfica next.
"But when the game against Ajax is coming up, I am sure my team-mates will be asking about De Jong and De Ligt and I can then give a positive update."