Premier League
'Ream was right to criticize team' - Fulham boss Jokanovic backs defender's comments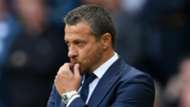 Fulham manager Slavisa Jokanovic says he has no problem with Tim Ream's recent comments accusing his team-mates of not showing enough desire.
The club currently sit 18th in the Premier League with just five points through the first nine games of the campaign.
Widely tipped to be the most prepared of the newly-promoted teams, Fulham are currently below both Wolves and Cardiff in the table following a six-match league winless run.
The most recent defeat, a 4-2 loss to Cardiff, prompted criticism from the American defender: "There are not enough guys who want it, who want to fight for each other, for themselves, for the club."
Having spent £100million on 12 new players this summer, Fulham deserve to be criticized, Jokanovic said, and the players have a right to voice their frustrations.
"I interpreted it and understand because I am talking with Tim Ream," said Jokanovic.
"He made some honest analysis about our situation. He's a great example of a professional player. He's always professional, always working well, honest, and my interpretation is that he's not happy with himself and not happy with everything that's happening around him.
"The message he wanted to send was 'Come on, lads, we must do better, we must push harder, on the players' side, on the staff's side, for all the sides, for finding improvement'. I'm not interpreting his words as negative. I understand. 
"I don't have any problem because, as I explained, I interpreted it and understood his words as a positive message."
Fulham have the worst defensive record in Europe's top five divisions, having conceded 25 goals so far this season.
Next up for the club is a match with Bournemouth before a clash with Manchester City in the League Cup.