Real Madrid
Modric should be the only Ballon d'Or candidate - Mijatovic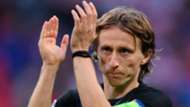 Former Real Madrid forward Predrag Mijatovic believes that midfielder Luka Modric is the most obvious candidate for this year's Ballon d'Or.
In the last decade, the award has been dominated by Lionel Messi and Cristiano Ronaldo, with the pair winning five each.
However, Mijatovic feels that Modric is the man to end that decade of dominance following a successful year with club and country, having won a third successive Champions League title with Real Madrid before captaining Croatia to the World Cup final. 
"There is only one candidate for the [Ballon d'Or]: Luka Modric," Mijatovic told Cadena SER.
"I think he will win as he won the Player of the World Cup, the Champions League and FIFA's 'The Best' award. 
"We'll see what happens, but I think Luka has the greatest possibility of winning."
Mijatovic also shared his thoughts on Marco Asensio, who has been given greater responsibility at the Bernabeu this season following the departure of Ronaldo to Juventus. 
"[Asensio] has a lot of talent and progression, he has highs and lows, cracking matches and others where he does not see the ball too much. 
"He has to take on this weight and trust in himself, depending on his team-mates and the results, he can offer a lot more than what he is offering.
"But, he has to convince himself, he does not trust himself too much, he has to keep training."
The ex-striker commented on Saturday's clash between Barcelona and Atletico Madrid, hoping for a favourable result for his former club, who sit sixth in the league and have struggled since Ronaldo's departure.
"A draw [between Barcelona and Atletico Madrid] would be perfect for Real Madrid, provided they beat Eibar."
Mijatovic also suggested that Luis Enrique needed to be given time to bring Spain back to their best on the international stage. La Roja find themselves in a period of transition, with new players being inducted while ageing stars are phased out.
"The Spanish team is with a new coach, trying to keep the same line with new players. We have to give them time, we cannot demand what they offered years ago. The selection always offers good football and I'm sure they will be in the European Championships, without any doubt."