Primera División
Real Madrid beats Barcelona by the smallest of margins ... in basketball!
11:50 PM GMT+4
12/03/2017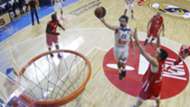 There can be no doubt that Real Madrid are better than Barcelona - at least on the basketball court.
Los Blancos topped Barca 76-75 Sunday in Madrid behind 16 points and seven assists from guard Sergio Llull.
Thousands request Barca-PSG replay
Sunday's match also saw Madrid's Felipe Reyes become the Spanish league's all-time leading rebounder as he eclipsed 4,293. In addition to Llull and Reyes, Madrid's side boasts players like Mexico international and former NBA center Gustovo Ayon and ex-Bulls and Kings forward Andres Nocioni.
Barca back-ups not good enough
Greek forward Stratos Perperoglou lead Barca in scoring with 16, while Croatian center Ante Tomic's 14 had him just behind.
While the football clubs sit atop the table, the basketball clubs are finding it more difficult to climb to the top, with Tenerife, Valencia and Baskonia sitting ahead of Madrid, in fourth, and sixth-placed Barcelona.