NPFL
Madu promises to end Plateau United's title dream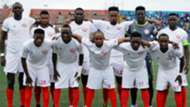 Enugu Rangers' midfielder, Chiamaka Madu has disclosed that the Flying Antelopes have a lot to play for as they face Plateau United on Saturday evening in the final fixture of the season and that they will get the job done at the end of the regulation time to dent the league title aspirations of the Peace Boys at the Rwang Pam Stadium.
Madu hinted that as professionals they go into every match with the desire to win and that despite the fact that they have sealed their place among the elite division teams for next season they are still motivated to defeat the league title favourites as they will derive pleasure in denying the Peace Boys the chance to lift their first league crown since they were formed decades ago.
"This is a war we have planned and prepared very well for. We are true professionals that are always eager to win every game and the tie against Plateau United won't be different. We didn't have the best of results this season and only guaranteed our place in the topflight for next season last weekend. We do not have anything to lose,'' Madu told Goal.
"The result of the tie with Plateau United is certain to fuel how we may likely perform next season and we want to end the season in impressive style. We have made it a point of duty to win or get a draw in Jos and we don't care what that results to for our opponents.
"Rangers are still a force to reckon with and we shall prove that before Plateau United's fans and supporters that we have what it takes to halt their celebration at the end of the 90 minutes on Saturday," he concluded.