Wales
Ramsey & Hummels deserve to be banned - but yellow card rules need to be overhauled
10:00 AM GMT+4
06/07/2016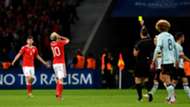 ---

COMMENT
---
Amid the hysteria of Wales' wonderful win over Belgium, Chris Coleman took a moment to express his disappointment at the fact that one of his star performers would miss their Euro 2016 semi-final showdown with Portugal. "I'm gutted for Aaron Ramsey," the Dragons coach confessed after Friday's game in Lille. "He has been one of the best players in the tournament." It was impossible to disagree with that assessment.
During Wales' 3-1 win over a supposedly superior Belgian side, Ramsey had teed up his third and fourth goals of Euro 2016 - nobody has created more. However, he also collected his second yellow card of the competition, thus invoking the mandatory one-match suspension that now rules him out of the biggest event in his nation's sporting history. There has been an understandable outpouring of sympathy for Ramsey; that the tournament's joint-top assist-make will miss Wednesday's meeting with Portugal in Lyon is a shame for not only the player and his supporters, but also the neutrals.
There have also been calls for UEFA to review their disciplinary rules and they should - but not because of Ramsey's situation. The Arsenal ace deserves to be banned. He was booked in back-to-back knockout games. As was William Carvalho, who will sit out the game for Portugal. And just like Mats Hummels, who is suspended for the other semi-final between Germany and France.
None of them can have any complaints about being suspended for cautions in consecutive outings. However, Ben Davies' ban is undeniably harsh.
The Tottenham full-back was booked in Wales' 2-1 loss against England on matchday two and saw yellow again in the surprise success over Belgium. As a result, he is suspended for the semis. However, that means a defender who went through two full games without picking up a booking receives the same sentence as Ramsey, Carvalho and Hummels. That is simply not right.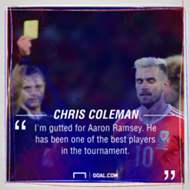 Of course, UEFA has amended its rules before, sensibly quashing all bookings prior to the quarter-finals of the European Championship, Champions League and Europa League in order to lessen the chances of a player being ruled out of a final - and for that the European game's governing body should be commended.
However, they now need to review the fact that a player can be banned for picking up two yellow cards across five games. Birkir Bjarnason, for example, would have been suspended had Iceland progressed to the semi-finals as the winger picked up a booking in his country's opening group game and then another in their last-eight encounter with France. That is a hypothetical situation but also a farcical one.
It is far easier to be cautioned in the modern game - and that is a good thing. Gone are the days when full-backs could kick wingers up and down the touchline for 90 minutes and not only manage to stay on the field, but also avoid a booking. The fact that Claudio Gentile, one of the most brutal defenders the game has ever seen, was never sent off in his professional career says everything about the long overdue need to reform the rules and protect the game's more talented players.
However, a balance needs to be struck. There needs to be an acknowledgement that these days players can be booked for one mistimed challenge - or one inadvertent foul. As FIFPro spokesman Simon Barker pointed out after six players missed the 2012 Champions League final due to cautions incurred in second-leg semi-finals, "David Alaba slipped over and got the ball kicked against his hand - it is not right that such a player should miss the game of his life because of this."
Likewise, Davies shouldn't have to sit out the game of his life just because he picked up two bookings in five games. As a result, it would be far more sensible just to quash the yellow card attributed to any player who then goes two games without one.
Players should still be punished for persistent fouling; it would be a wrong to suggest an amnesty for the likes of Ramsey, Carvalho and Hummels just because they are talented players that we would see on the pitch rather than sitting in the stands.
However, by introducing the 'two-game rule' we would greatly reduce the number of players running the risk of being suspended for a semi-final. As it was, 45 participants across eight nations had a ban hanging over their heads going into the four quarter-finals at Euro 2016.
Cards are there to dissuade players from committing fouls and it is now easier than ever before to earn one. The game has changed. The rules should fully reflect that.