European Championship
Racism in football: Incidents, punishments & players subjected to abuse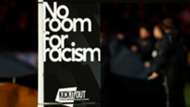 How exactly does racism manifest itself in football?
Simple: the same way it does in any other walk of life. It happens when a person is targeted and discriminated against based on the colour of their skin, their ethnicity or their nationality.
It can happen on the pitch from player to player, it can happen in the dressing room or on the training ground. It can also emanate from the stands, when groups of supporters take it upon themselves to abuse an individual or individuals on the pitch.
One of the most common manifestations of racist discrimination against players comes in the crude form of 'monkey chants' or similarly themed songs, while fruit such as bananas - which are associated with monkeys and apes - have been thrown at victims as well. The stark and offensive implication is that those being targeted are somehow sub-human.
The problem has reared its ugly head for decades in the sport and, despite genuine attempts to tackle it head on, by clubs, associations and groups such as Kick It Out, players are still regularly subject to abuse.
Indeed, a number of elite-level stars have been affected by the issue in recent months, with incidents involving the England national team, Juventus star Moise Kean and Napoli's Kalidou Koulibaly showing that an undercurrent of ignorance and hate still plagues the game at the very top.
Thankfully, it has prompted a greater level of engagement with the idea of confronting racism in football - and, by extension, wider society - with players past and present doing their bit to shine a light on something that has been a scourge.
How is racism in football punished?
The question of how racism in football is and should be punished by the game's authorities has been considered regularly over the years with the discussion naturally intensifying in the aftermath of incidents of racist abuse.
Fines, stadium closures & bans
FIFA's disciplinary code dictates that a player found to have engaged in racist behaviour will be suspended for at least five games, issued with a stadium ban and fined at least CHF20,000 (£15k/$20k), which goes up to CHF30,000 (£23k/$30k) in the case of an official. Points deductions and relegation (or disqualification in the case of a knockout competition) are also applicable in cases where several players have engaged in racist behaviour simultaneously.
When a team's supporters are found guilty of behaving in a racist manner the association or club are fined CHF30,000 (£23k/$30k) and, depending on the severity of the situation, additional sanctions - behind-closed-doors games, match forfeit, points deductions and disqualification - may also be applied. Further to that, if an individual is identified and found guilty of such behaviour they will receive a stadium ban of at least two years.
European football's governing body UEFA also deals directly with the issue in its disciplinary regulations and its punishments essentially fall along the same lines as those of FIFA, but the minimum suspension period is 10 games and fines start at €50,000 (£43k/$56k).
Is enough being done?
However, any time there is an incident of racist abuse, either from a player or set of supporters, the consensus is that the current disciplinary sanctions do not serve as enough of a punishment or deterrent. Tottenham defender Danny Rose, for example, believes that it is