UEFA Champions League
Pulisic plays best match of career to help Dortmund reach CL quarters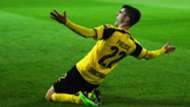 Appearing in the biggest match of his budding career, Christian Pulisic played the game of his life Wednesday in the Champions League, adding to his growing reputation as the great American hope.
Borussia Dortmund manager Thomas Tuchel named Pulisic a starter for Wednesday's crucial second leg against Benfica, slotting him in the attacking midfielder role in a 3-5-2 formation. Pulisic flourished, applying constant pressure on Benfica's defense on a day that saw him score a goal and help set up another in a 4-0 triumph that secured the German club's place in the Champions League quarter-finals.
Tuchel had a real dilemma before Wednesday's decisive match. with Marco Reus out with a thigh injury. "I cannot tell you how we will replace Marco Reus," Tuchel said on Tuesday. A day later, he had settled on slotting Pulisic into a central role, giving him the freedom to roam around and find the weaknesses in Benfica's defence.
At times Pulisic floated high up the field, almost as a third forward, and other times he worked the middle of the field, using his quickness and confidence on the ball to frustrate defenders, who couldn't quite get a handle on the slippery American.
Aubameyang hat-trick leads BVB
Pierre-Emerick Aubameyang will grab the headlines for his hat-trick performance, but Pulisic did his part, assisting Aubameyang's first goal before finding the net himself. It took Pulisic less than five minutes to make his mark, as he redirected a corner-kick to the back post with a header, leaving a wide-open Aubameyang to score in the fourth minute and tie the series.
Pulisic scored his second goal in as many matches in the 59th minute, racing onto a perfectly placed pass from Łukasz Piszczek and delicately chipped a shot past the on-rushing Benfica goalkeeper to give Dortmund a lead they never surrendered.
Wednesday's display has set a new bar for Pulisic, who has had a handful of top-notch matches during what has become a breakout year for him. There was his showing in Dortmund's draw against Real Madrid in the group stage last fall, when he helped set up the equalising goal, and just last Saturday he delivered a goal and assist in a rout of Bayer Leverkusen. The Benfica match set a new bar though, for what was at stake, and for how he handled the responsibility.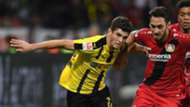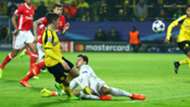 Somewhere, former U.S. coach Jurgen Klinsmann might have had a chuckle at watching Pulisic deployed in the same playmaking role in a 3-5-2 he tried to use the youngster in against Mexico last year. The big differences were in both the personnel around Pulisic, and the clear confidence Pulisic and his teammates had in the game plan.
U.S. coach Bruce Arena will want to think about what he saw from Pulisic on Wednesday. Asked back in December about where he would likely deploy Pulisic with the U.S. national team, Arena made it clear he felt playing him on the wing made sense, seeing as how that is where he has been used predominantly with Dortmund. His play against Benfica showed the possibilities that deploying Pulisic centrally could produce. It is the position Pulisic played during his youth national team days, and a role he seems destined to play for the U.S. eventually.
That day feels a lot closer after Wednesday. What remains clear is that Pulisic will play a major role for the U.S. in the upcoming qualifiers, but now it will be up to Arena to decide whether that role will find him on the right-wing, left-wing or deployed as a playmaker.
The victory moves Dortmund into the Champions League last eight, which will give Pulisic more opportunities to show he can deliver on the biggest stage. Tuchel and Pulisic's Dortmund team-mates should have full confidence that the young American is up for the challenge.