Premier League
Preko closes door on Aduana Stars and Kenichi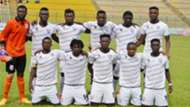 Inter Allies assistant coach Yaw Preko has dismissed rumours that he could be linking up with Kenichi Yatsuhashi at Ghana Premier League champions Aduana Stars. 
Preko is currently the interim coach at Allies following the departure of head coach Kenichi for Aduana last week. 
According to speculations, the Fire Boys are not done with the Eleven-Is-To-One just yet, having set sights on also luring away Preko, who doubles as deputy coach of Ghana's U-20 side. 
"I am not joining Kenichi at Aduana Stars because I am currently with the national team and I'm still with Inter Allies," Preko told Happy FM. 
"My number one priority is to help the national team. 
"I don't know what will happen in the future, but as at now, I won't join Kenichi."
Preko and Kenichi have a long-standing relationship, having also worked together at Hearts of Oak and Nigerian club Ifeanyi Ubah.
The former Ghana winger spoke on the Japanese swapping Allies for Caf Confederation Cup side Aduana, a decision that came as a surprise to many, considering the Eleven-Is-To-One's good performance in the local topflight this season. 
According to Allies technical director Willie Klutse, the ex-Cambodian Tiger FC boss left due to frustration over the standing indefinite suspension of the Premier League.
"I don't think Kenichi moving to a team that's playing in a competition should be a big deal," Preko said. 
"We don't know when the league will resume probably next year."
Some reports also say Preko is likely to be handed the Allies job on a permanent basis. 
He is currently being assisted by Togolese coach Adam Fazazi.