Premier League
Polack backs Akonnor to succeed at Asante Kotoko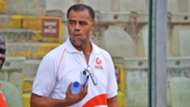 Former Asante Kotoko coach Steve Polack believes C.K Akonnor is the right choice for the club after penning a three-year contract this week to replace Paa Kwesi Fabin.
However, Polack, who won the FA Cup trophy with Kotoko last season, has advised the club's top hierarchy to support and allow the new coach to operate freely in order to achieve set goals.
"I don't know him personally but I believe he can do the work and wish him the best after signing the three-year contract," Polack told Kumasi FM.
"However, signing a year or ten-year contract in football doesn't always mean you will be there to see the end of it. I believe they should give Akonnor enough time and support to show what he can do.
"They should not protest after five or six months that he is not good enough and want him sacked like it happened in the past. You don't get the stability in your club with that attitude, so they have to give him time.
"With my experience in Africa, it seems everybody knows about football and how to coach but if you are not a doctor, you don't tell the doctor how to do his job. Leave the coach to do his job," he added.
Akonnor has become the seventh coach be appointed by Kotoko in three seasons after David Duncan, Michael Osei, Godwin Ablordey, Frimpong Manso, Zdravko Logurasic and Polack.