Shu-Aib Walters
Player Perspective: That's a season wrap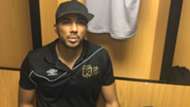 ---
PLAYER PERSPECTIVE:    SHUAIB WALTERS       Follow on Twitter
---
I want to begin this column by expressing my heartfelt condolences to the loved ones of Cheick Tiote as they and the football world mourns his sudden passing. I also commend him on his contribution to football.
Getting back to more recent football news, and more specifically the Champions league, I feel it was a fairly tight game in the first half, however the second half was a one-sided affair as Juventus played a weak game of football, which was disappointing.
With the local season at an end, I have been reflecting on highlights and some lowlights of the season.
OFFICIAL: Tinkler resigns as Cape Town City head coach
My biggest highlight was winning the Telkom Cup! This was a great achievement for me personally and for that, I once again want to say thank you to my team mates for helping me achieve this goal.
As for the league, I honestly have mixed emotions about our final standing as I'm very proud of what our team has achieved.  Yet looking back at the games and performances I feel we could have won one or two more games and grabbed second place, such as our last game against Polokwane which we lost quite badly, for example.
If we had won that match we would have taken second place. However, if you had asked me at the beginning of the season if I thought we had a chance to take a spot in the top 3, I could have said no- maybe top five.
Now looking back at our performances and what we have achieved I am left with a bitter sweet taste.
Pele, Shevchenko & the footballers who went into politics
Another point to ponder is the obstacles our boys faced behind the scenes, which is not something everyone would know about. Obstacles that could have had a negative impact on performance, motivation and team morale.
However, the boys looked past these obstacles and persevered to bring home third place.
Logistics and operational planning was definitely a lowlight. For example, there some instances when we would arrive at hotels at 01h00am in the morning after driving for 4 hours after a game, and have to be up that same morning at 06h00am for a flight.
Myan Subrayan: The professional sports environment is a haven for depression
There were some training challenges: not having a home training ground for the better part of the season and having to train at three different training venues in one week at times. As I mentioned on numerous occasions, these are things that could affect performance and the players' morale.
Oh! This just reminded me to mention that I received the "Complainer of the Season" award…. I wonder why??
In a nutshell, we did the unimaginable - with limitations at times- and created history….
Till next week!!
This column is brought to you by  Lotto Sports Apparel.