Selangor II
PKNS signs 4 as Rajagopal kickstarts preparations for 2018 season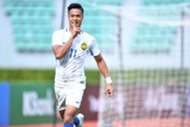 Following the announcement of former national team head coach K. Rajagopal in taking over the reins at PKNS FC, reinforcements to the squad is starting to take place at the club side with four new signings.
Qayyum Marjoni joins from Kelantan, Jafri Chew and K. Reuben joins from Penang while Nurridzuan Abu Hassan joins from Pahang. 
A new spine is being created at the club with Safee Sali staying put at the club and expected to be given the captain's armband for the upcoming 2018 season. 
Qayyum is a left footed player who is equally comfortable as a left back or as a left winger but with the presence of Nurridzuan in the team, looks more likely to fill a spot in the defence.
As for Reuben, he's likely to take up the right back slot while the signing of Jafri will provide a little bit more support up front to Safee for the attacking options.
Rajagopal is still looking for imports as none from Abdou Jammeh, Fabio Ferreira, Patrick Ronaldinho Wleh and Park Kwang-Il were retained from the 2017 squad.
Last season on top of their midtable finish, PKNS were sent packing out of the FA Cup in the Second Round to Melaka United and finished bottom of Group B in the Malaysia Cup without a single win achieved.