World Cup
PETA condemns 'brutal' treatment of bear used to kick off Russian league match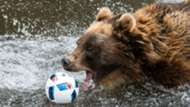 Animal rights group PETA has criticised the decision of Russian side Mashuk-KMV to use a tame bear to help kick off a match.
A viral video showed the bear, named 'Tim', give the ball to the referee prior to kick-off, with some suggesting that it was an experiment ahead of the World Cup this summer.
PETA (People for the Ethical Treatment of Animals) France has now issued a statement on the stunt, labelling it "brutal" and "dangerous".
"As well as being archaic and cruel, showing a captive bear during a football game is very dangerous," read a statement.
"Often, the teeth and the claws of the animals used for entertainment have been pulled out.



"Bears are not being shown as themselves on these events, at the circus, they are taken from their mother when very young and are educated with violent gestures and spirit.

"They are trained with brutal gestures, electric shocks, are burned with cigarettes and deprived of food in order to be able to do ridiculous things such as this one, for football.

"The bear is a Russian symbol and we hope that Russia will show more respect to them and will stop brutalising them.
"Simple common sense should be that the Russian Football League never again uses animals for these events. This brutal way of using them is again the spirit of fair play."