A-League
Perth Glory agree to play the first ever A-League game overseas in Malaysia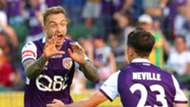 The A-League will be heading overseas for the first time with Perth Glory set to host a match in the Malaysian part of Borneo.
The Borneo Post says Glory have signed an Memorandum Of Understanding agreement with Sarawak FA to host an A-League game on the island.
Glory will also travel to Borneo for a pre-season tour this year, which will see it play two friendlies against Sarawak - likely on dates between August 3-9.
Perth club adviser Tony Hughes said the Western Australians were moving closer to creating A-League history with the first competitive match played outside of Australia or New Zealand.
"We are looking forward to playing the two friendly matches in Kuching. We haven't decided on the dates yet but it is expected to be between Aug 3 and 9," Hughes told The Borneo Post.
"We are moving towards making history by having the first ever A-League game in Sarawak and the first A- League game outside Australia using a stadium in Sarawak."
Perth Glory tweeted confirmation of the MoM and said they were keen to take an A-League game to the region in the near future.
Sarawak FA are currently second in the Malaysian Premier League and won the nation's championship in 2013.