Wales
Pele, Maradona and Best? Coleman mocks England with bizarre Wales line-up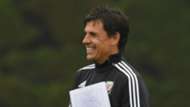 Chris Coleman may be taking charge at his first major tournament, but the Wales boss seems to have learnt quickly that cameras will be following his every move during his time at Euro 2016.
One of the pitfalls of such media coverage is the possibility of team notes potentially being photographed, with England assistant boss Ray Lewington pictured on Tuesday with a piece of paper that seemed to show the Three Lions' potential line-up to face Russia.
And Coleman has reacted to that gaffe by seemingly giving the press a full view of his formation for Saturday's clash with Slovakia.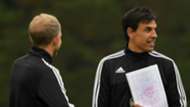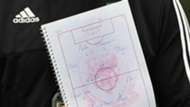 It quickly became apparent, however, the former Fulham boss was playing his own trick on the assembled media, with the eagle-eyed quickly noticing his team contained the likes of Pele, Diego Maradona and George Best.
Socrates and Franz Beckenbauer were also among those included, and while such a dream team would have struck fear into any opposition a few decades ago, anyone looking for an indication as to where Gareth Bale will play in Bordeaux was left rather disappointed.