Brazil
Pele 'fine' and in 'no pain' after reported health concerns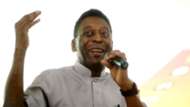 Brazil icon Pele says he is fine and in "no pain" following conflicting reports regarding his health.
Pele pulled out of an appearance at an event scheduled for Sunday, hosted by the Football Writers' Association (FWA), who, in a press release, stated he had "collapsed and was taken to hospital" due to severe exhaustion.
Those claims were swiftly rebutted by one of the 77-year-old's advisors.
Three-time World Cup winner Pele revealed he has been struggling with a hip issue which arose after his first operation on the joint.
"Thanks to God, I'm fine now," he said in an interview with TV Globo.
"I have no pain. I am already starting to train. The operations I had on the ligaments, on the hip, and even on the back, were on the right side.
"Because I put all the effort on the left side, I started to have problems with the ligament of my left leg."
Asked if he was going to be selected for Brazil duty, Pele jokingly responded: "I don't know, now you are speaking more seriously.
"I don't know if Tite will select me. But I'll be ready for the next World Cup, God willing."