Manchester United
Ince irked by Man Utd fans' Lukaku abuse: 'They need to get real'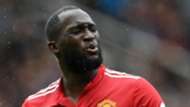 Romelu Lukaku critics need to "get real", says Paul Ince, with Jose Mourinho right to hit back at Manchester United fans with short memories.
The Belgium international enjoyed a bright start to his time with the Red Devils following a £75 million summer transfer from Everton.
The goals have dried up of late, however, and the 24-year-old has gone six games without finding the target.
Lukaku's barren spell has seen him questioned by some supporters, along with United's displays as a whole, leading Mourinho to enter into a war of words.
Former United star Ince has backed Mourinho's stance and Lukaku, telling Paddy Power: "Jose Mourinho was absolutely right to criticise the Man United fans after the Tottenham game.
"When Romelu Lukaku came to Manchester United, and he was bagging goals for fun, no one was saying a thing. Not one United fan was moaning.
"Now, he hasn't scored in a few games and suddenly loads of fans are on his back. They need to get real.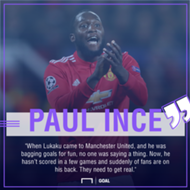 "We're talking about someone who has scored 11 goals for United already, and we're only at the start of November. Let's get it right.
"So, when I see that Mourinho has had a dig at the fans for booing, I literally couldn't agree with him any more for doing that. Those fans needed telling.
"When I was playing, even when things were going badly wrong, fans would support their team. They're called supporters for a reason. And I think there's a huge difference between 'fans' and 'supporters' nowadays.
"When you look at Huddersfield fans, they are what you would call a traditional supporter. They stick by their team whether things are going right or wrong.
"I was at Anfield for the game last week, and they didn't stop singing, even when they were three goals down.
"Then you look to some United fans, whose side are second in the table, but they were booing their top goalscorer. It's mental.
"If you're a proper fan, you can't just support someone only when they're playing well. The proper Man United fans will be backing Lukaku whether he's doing well or whether he's having a rough patch."
Lukaku will get another opportunity to get back on the goal trail when he and Mourinho travel to Stamford Bridge on Sunday to take on their former employers at Chelsea.