Ghana
Partey insists Atletico can still progress in Champions League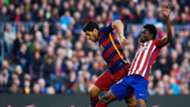 Atletico Madrid midfielder Thomas Teye Partey insists they are not giving up on their ambition to qualify to the knockout stage of the Uefa Champions League.
The Ghanaian fetched the equalizer that helped the Spanish side to settle for a 1-1 draw at home against Qarabag from Azerbaijan.
The stalemate has narrowed Atletico's chances of making it out of Group C as they currently sit third with three points, five behind leaders Roma and four behind second-placed Chelsea.
"We lacked a bit of luck to score the second goal. We played a great game and now we cannot lower our arms," Partey said.
"We created many occasions. We have to keep fighting as a team.
"We all work to score goals every weekend. We have to continue without lowering our arms and fighting until the end," he added.
Atletico will face Roma at home on November 22 before travelling to Stamford Bridge to lock horns with Chelsea in the final game in December.