South Africa U23
Owen Da Gama pleads with Safa to give Thabo Senong SA's U23 coaching job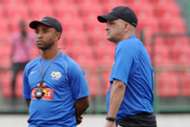 Highlands Park gaffer Owen Da Gama has urged the South African Football Association (Safa) to appoint Thabo Senong as the head coach of the South African under-23 team.
Senong, who is one of the brightest coaches in the country, recently guided South Africa's under-20 side to the Fifa World Cup finals.

"I think in my personal capacity, they should give it to Thabo Senong. He worked with me and he has done well with the young boys. A lot of the boys he had at the under-20 level are now under the age of 23. So, he knows the database," Da Gama told the media ahead of Highlands' Nedbank Cup clash with Cape Town City.

Da Gama served as South Africa's under-23 coach between 2014 and 2016 with Senong assisting him, and both coaches guided the team to the 2015 Caf U23 Africa Cup of Nations (Afcon) finals and subsequently to the 2016 Rio Olympic Games.

Safa is yet to announce the new South Africa U23 coach with the team scheduled to face Angola in the 2019 U23 Afcon qualifier next month.

"So, I am praying with all of my heart that they can give Thabo Senong the job and not bring in someone who would start afresh again. There's no coach who knows the database better than Thabo at the moment," he continued.

Former Orlando Pirates striker Lyle Foster was not included in Amajita squad for the 2019 U20 Afcon tournament after he was not released by his new French Ligue 1 club AS Monaco.
"I am hoping that Thabo gets it. It is a humongous achievement considering the fact that he could not get overseas-based players like Lyle Foster because it is a problem. He had been preparing with them," Da Gama said.

"If you take that into consideration, it is a humongous achievement. He has done fantastically well. When you qualify for your first World Cup they say maybe he was lucky, but he has done it again," he indicated. 

Foster played an important role in helping Amajita qualify for the continental tournament which is being hosted by Niger.
"Other countries are studying South Africa. So, the more you qualify, the harder it gets, but he has done it again. I am so proud of him. I think coach Thabo has a bright future," Da Gama said.

"Having gone there as the only Southern African country, you remember there was a time when Zambia was dominating at that level, but we have had the ability to grow beyond them," he concluded.
Amajita's 2019 U20 Afcon campaign will come to an end when they take on Nigeria in the 3rd/4th play-off match in Niamey, Niger this weekend.