World Cup
Osorio wants referees to protect Mexico stars
12:43 AM GMT+4
24/06/2018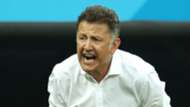 Juan Carlos Osorio says referees have to give more protection to his Mexico players after seeing his side defeat South Korea 2-1 in Group F on Saturday.
A first-half Carlos Vela penalty was followed by Javier Hernandez's 50th international goal as Mexico won their second straight game to begin the World Cup.
But despite seeing Mexico follow a 1-0 defeat of world champions Germany with another narrow win, Osorio was unhappy with the refereeing from Serbian official Milorad Mazic, who booked four Korea players.
"Well, I don't normally like to talk about refereeing but there was something that concerned me," Osorio told reporters at Rostov Arena. "I hope the referees will draw their own conclusion.
"There was a clear undebatable fact: 24 fouls. This is easy to see who committed those fouls against who.
"I hope for the good of football and attacking players, I hope the referees will take the necessary precautions."
Osorio was heavily criticised leading up to the World Cup but the Mexico coach has been somewhat justified in his decisions by his side's victories in Russia.
"Well first of all, I'd like to thank those who have cheered me on. It's very comforting," Osorio added. "And it's also moving to see how Mexican fans are behind their squad.
"Listening to the Mexican national anthem really moves me. So, I can imagine what my players feel when they hear all that support. I think this will be a very beautiful memory in the future.
"For many, analysis and assessments have to do with the final scoreboard. We cannot simply get carried away with our victory. We have to maintain intact our humility and modesty and to try and progress as far as possible in this World Cup."