Mexico
Osorio: Mexico will have two competitive teams for summer tournaments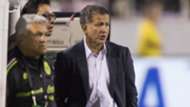 LAS VEGAS — The Mexico national team will have to display its depth this summer, but coach Juan Carlos Osorio believes he can put together two groups that will compete for trophies.
Osorio has to assemble a squad not only for June's Confederations Cup but also needs to put together an entirely different team for July's Gold Cup, with most clubs unlikely to release players for both tournaments. But despite the strain on players, Osorio said that Mexico's pool can produce the 46 players that will be necessary to make up two completely different squads.
"Without a doubt we're going to have two competitive teams for the tournaments this year," Osorio said Wednesday after a 1-0 friendly victory over Iceland. "There are people trying to push out the established players. We can put together two competitive teams."
Osorio ready for Giovani dos Santos to control Mexico attack
Playing without the majority of players who make up the strongest group, which will be headed to Russia in the summer, Mexico was dominant against the Europeans but could find only one goal. For Osorio, it's an issue that is correctable — and one that may take care of itself in a more competitive setting when players like Hirving Lozano will be on the wing instead of playing up top as he did toward the close of Wednesday's match.
"The team was very effective in the final third but we lacked finishing," Osorio said. "The game was giving us two more goals that we didn't score, but you have to understand that Hirving's strength isn't heading the ball, playing as a No. 9 in a position he doesn't know well because we wanted to see Elias (Hernandez) and Luis (Montes) play as inverted wingers and Orbelin (Pineda) as the organizer of the match, and they left us very happy."
Mexico's next game is a March 24 match against Costa Rica as the final round of CONCACAF World Cup qualification resumes.