Mexico
Osorio confirms Mexico set for Azteca stay, denies Chivas will play Gold Cup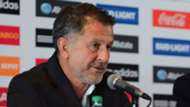 Mexico coach Juan Carlos Osorio says Mexico's advantage at the Estadio Azteca has diminished in today's modern game but still plans to keep it as the home of the Mexican national team.
Rumors about the team playing home World Cup qualification matches in another city had circulated, but the El Tri manager said Thursday that the team would continue to play games at Azteca for the foreseeable future - as long as the site is not handed a FIFA ban.
Giovinco will listen to offers from China
"For me, personally, for the history and the tradition, we should play in Estadio Azteca," Osorio said at a news conference.
While Osorio chalked up part of the team's strength at the Azteca to its altitude, he also said that advantage is a diminished factor in today's modern game because many players from each side play in other countries.
"Historically the national team had an advantage over the opponents that came to play at the Estadio Azteca in Mexico City's altitude. This was directly linked with the fact that the majority of players were playing in Mexico. Now, we know that our players play at different altitudes, and it's no longer an advantage.
Osorio went on to say that since most players arrive three to four days prior to a competitive match, the team may train in a different city like Cuernavaca to minimize the effects on his own players.
Osorio also put to bed a rumor that Chivas, with its all-Mexican club team, would represent Mexico at this summer's Gold Cup. Mexico is expected to send an alternative side while the top players contest the Confederations Cup in Russia, but the El Tri coach said he would give players from all teams an opportunity to play in the continental championship.
"We haven't considered it," he said. "It would be really unfair for the rest of the Mexican players, who have the same rights to represent this great country. The national team will be made up of the players we think are in the best form and condition.
"The goals have to be clear. First is qualifying for the World Cup, later the Confederations Cup and third the Gold Cup. We think that with the team we're going to pick for the Gold Cup, we could have a great representation, compete and hopefully strengthen those players so they can compete for a place in the top national team."