Transfers
Only beautiful! Chelsea making a mistake swapping Batshuayi for Llorente
12:59 PM GMT+4
12/01/2017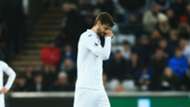 ---
COMMENT
---
It was after watching Fernando Llorente spend three of first four games for Juventus sitting on the bench that Tuttosport famously asked, "Is he only beautiful?"
As it turned it, the answer was no, the handsome Basque was also a quality centre-forward, as he proved just three days later by netting the decisive goal in a 2-1 win over Chievo, on September 22. 'Finalmente!' screamed the headline on the paper's front page the morning after.
Chelsea granted planning permission
Even after opening his Serie A account, Llorente took time to settle in Turin, but the 16 goals he scored that season played a pivotal role in what was the Bianconeri's third consecutive Scudetto under then-coach Antonio Conte.
Goal has now learned that the former Bianconeri boss wants to be reunited with Llorente, at current club Chelsea. It would be the kind of bizarre January transfer to rank up there with Liverpool's signing of Steven Caulker 12 months ago in a deal that surprised everyone - including Steven Caulker. He was afforded just four minutes of Premier League action, the majority of which he spent playing as a makeshift centre-forward.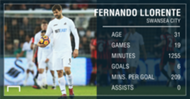 Llorente would likely see more game time at Stamford Bridge - but he would hardly be any more effective up front. The sad truth of the matter is that the 31-year-old's best days have long since past.
Yes, he has hit six goals for struggling Swansea this season but he is no longer the player that dovetailed so effectively with Carlos Tevez during Juve's 2013-14 title-winning campaign and he is most certainly no longer the striker that hit 29 goals for Athletic Bilbao in 2011-12.
Llorente was never the quickest centre-forward but now he is just plain slow, painfully immobile and five years past his sell-by date. Even at Juve, he only really shone for half a season before eventually losing his place in the starting line-up to the younger, faster and more technically gifted Alvaro Morata.
RUMOURS: Chelsea want Calhanoglu
Llorente wanted to remain at Juve - even after seeing his compatriot start ahead of him in the 2015 Champions League final - but Juve made it clear that he was surplus to requirements by acquiring Mario Mandzukic from Bayern Munich.
"I was sorry to leave Juve, in Turin I was happy," he told Tuttosport four months after his departure. "If it was up to me and I felt the trust, I would have stayed. Clubs like Juve are few in the world. I do not feel inferior to Mandzukic, although we are talking about a great centre forward."
Llorente then flopped horribly when he returned to Spain, scoring just four goals in 24 appearances for Sevilla. His "dream" was to return to Turin but it was never going to become a reality. Juve knew that Llorente was finished at the highest level. Sevilla did too, and, it came as no surprise when he was allowed to join Swansea before the start of the current campaign.
He has spoken optimistically about earning a return to the Spain squad but it is wishful thinking on his part, given he has not featured for his national team since being overlooked for the 2014 World Cup.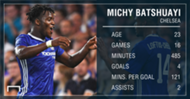 In that context, it is baffling that Conte wants to sign Llorente to serve as Diego Costa's understudy, given he offers nothing like the same tenacity, movement or goal threat as the Brazil-born Spain international. Indeed, not once in his entire career has Llorente ever scored more than 18 league goals during a single season.
Of course, the very fact that Conte is considering a move for his former charge means that he has absolutely no faith in Michy Batshuayi, a remarkable development given that the Belgium international only joined Chelsea last summer for €39 million.
The 23-year-old has been afforded just four starts - none in the Premier League - by the Blues boss yet has still managed to rack up four goals in all competitions. By contrast, Llorente has struck just six times for Swansea even though he has seen far more game time: 1,255 minutes of action to Batshuayi's 485 minutes.
Quite why Conte feels that Llorente would be a better back-up option for Costa is mystifying, because while the Basque is still beautiful, he is no longer a quality centre-forward.