Omar Khribin
Omar Khrbin lands 2017 AFC Player of the Year - Men award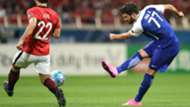 It has been a remarkable year for the Syrian, which culminated in the 23-year-old forward being named Asia's 2017 Player of the Year in a glittering award ceremony held in Bangkok on Wednesday.
Part of the Al-Hilal squad that made it all the way to the 2017 AFC Champions League final before a heartbreaking defeat to Japan's Urawa Red Diamonds, Khrbin also shone for his country as they were only two steps away from reaching the 2018 FIFA World Cup finals in Russia.
Khrbin finished with 10 goals in the competition, which also earned him the top scorer's title for the competition in which his team finished as runners-up. 
Like in the cup competition, Khrbin had to watch in agony as Australia outdid his Syrian in the Asian Final Playoff stage but the incredible story that Khrbin and his team mates had them as the favourite underdogs.
"Omar (Abdulrahman) is among the best players in Asia and he won the award last year. If he was not among the best, he would not be nominated for the award. With the club and the national team, we did our best but it was not meant for us to win the ACL title and qualify for the World Cup finals. We hope that next year we can do better and get the ACL title for Al-Hilal.
"For the Asian Cup in one year from now, we will try to do our best for the Syrian national team. We play and fight to bring happiness to our people. That is our main target. We have determination in matches but the determination is stronger when you have people who are hungry for the happiness and joy. Our people deserves to be happy," said Omar at the press conference after receiving the awards.
In winning this award, Khrbin is the first Syrian to ever to be recognised with this award, ousting last year's winner in UAE's Omar Abdulrahman and China's Wu Lei. The initial nominees were determined using a point based system based on performances for club and country. 
Past winners of the coveted title includes Saudi Arabia's Saeed Owairan back in 1994 to Hidetoshi Nakata (1997-98) to Ali Karimi (2004) to Zheng Zhi (2013).