NPFL
Ogunbote charges Enugu Rangers' players ahead 2017-18 season
11:04 PM GMT+4
02/11/2017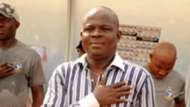 Gbenga Ogunbote charges Enugu Rangers' players to brace up and strive to rediscover their form.
Ogunbote was unveiled as the new coach of the Flying Antelopes on Wednesday in Enugu and the former Enyimba coach noted that everyone in the club including the players must be ready to turn a new leaf to ensure the former Nigeria topflight champions return to its best.
"We thank God that everything has been sorted out. I am glad to be here. It was a painstaking exercise. I have told the players that I will need their support 100 percent while the management and other stakeholders in the state must be alive to their responsibilities. The team didn't perform well last season but I believe with the right mentality we can bounce back this term," Ogunbote told Goal.
"We will head straight to work immediately. We have a lot of things to cover up and I will need all the players to be ready to learn fast and also to put all their minds in all the training sessions and ensure that imbibe my philosophy before long.
"Rangers are a big team and the expectation will be high but we believe in what we can do and I believe with the support of all, we can all build the Rangers of our dreams. I won't be setting any target but I hope we are going to finish the season in a respectable position.
"I don't want to dwell on the past but I want to remain focused on thing of what I can do to ensure that Rangers are back to the foremost team we know them to be," he  concluded.
Ogunbote led Enyimba to the continent last season after they placed third in the league standings but he is inheriting a Flying Antelopes side that managed to escape relegation at the end of the 2016-17 season.