African All Stars
Oghenekaro Etebo's Stoke City move isn't as bizarre as first seems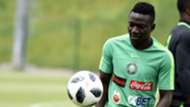 ---
COMMENT    By Seye Omidiora     

Follow on Twitter
---
The transfer of Oghenekaro Etebo from Primera Liga side Feirense to relegated Stoke City prompted a fuss in several quarters.
The queries then paved the way for a torrent of fault-finding, with the majority asking why the talented and industrious player fancied such a move to the English Football League when he could, hypothetically, have secured an even better transfer after the World Cup.
Those voices were fuelled after the midfielder's star showing against Croatia in Nigeria's opener. He may have conceded an own goal, but he was the national side's outstanding player -- contributing both in offensive and defensive phases of play.
Can't help feeling Etebo might have been better served holding off on a move till after the World Cup. He can do better than the Championship.

Ah well... Congratulations to him anyway.

— Solace Chukwu (@TheOddSolace) June 11, 2018
When you also consider the fact that, on a personal note, Etebo had an amazing six-month spell in Spain with relegated Las Palmas, perhaps those with that point of view have a reason to be vexed at what they consider to be a poor career decision. 
— BA Ess (@Ben_Geez) June 11, 2018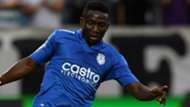 Feirense, for their part, have secured a fantastic remuneration for the midfielder having seen his value skyrocket in the last few months.
The reported fee of over $7.2million is said to have broken La Union Deportiva's previous record, and it would have been unfeasible to have foreseen it in January.
The relegated Potters' ambition to return to the Premier League at the first attempt is admirable and with other big-money signings set to come over the course of the summer, they're set to give it everything they have to return into the big time.
Perhaps that ambition was one of the factors that swayed Etebo amidst interest from top-flight clubs in England and Germany. However, just splashing the cash won't be enough to secure promotion as evidenced by Aston Villa's season which ended in disappointment a couple of weeks ago following a loss to Fulham in the playoff final.
Looked on with disdain by a plethora of observers, the Championship is in truth one of the most competitive divisions in Europe.
The incursion of foreign ownership into the league has meant more clubs are willing to splash the cash in an attempt to gain entry into the top tier. Case in point, last year's champions Wolverhampton Wanderers were financed by the Chinese conglomerate group Fosun International, whose financial backing saw them pull off a huge Ruben Neves deal from Portuguese giants FC Porto.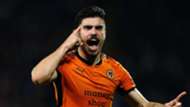 The aforementioned foreign ownership – present in more than half of the teams in the just-concluded season – has prompted the arrival of quality players who would normally not play in supposed less-important divisions, Etebo included.
It is probably then not so surprising when you realize that outside the top five big leagues (Spain, England, Germany, Italy and France); no league anywhere spent more on transfers than England's second-tier in the summer of 2017.
You don't need to be a betting man to also realize it'll certainly stay that way yet again this summer as teams jostle for signings to beef up their squads, and the purchase of the Olympic bronze medalist for Stoke is an early signifier of that.
The highly competitive Championship is a class apart from other secondary-tier divisions which only proves how standards and quality aren't as bad as they seem to be to those outside looking in. It's a physically gruelling competition which requires players that are tough as nails to go the distance.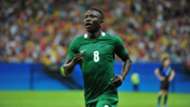 Etebo will definitely be relishing the prospect of proving in his worth in the evolving Championship.
A competition with huge financial backing, even more potential TV audience across the world from next season, and a pioneer for lower divisions' attempts at improved and sustainable structures within clubs, the Championship isn't just your average second-tier division.
With Etebo's recent arrival, and his increasing profile within the national-team setup, expect the interest in the league to surge in these parts!