CAF Champions League
Nyasa Big Bullets moan over fixture congestion ahead of clash with Gor Mahia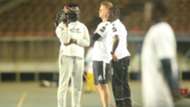 Gor Mahia might need to take full advantage of the 'week legs' of Nyasa Big Bullets when they host the Malawians side in the first preliminary round of the Caf Champions League fixture on November 28.
The Malawian champions will have to arrive in Kenya at least a day late due to domestic engagement. 
Bullets, who were scheduled to fly out to Nairobi on November on Friday, will now have to reschedule their flight after Malawian football Federation set the day for the quarter-final of the FISD Challenge Cup where the K'Ogalo's opponents will face Chitipa United.
"We expected FAM to shift our quarterfinal fixture against Chitipa United having in mind that we are preparing for a big international match away in Kenya.
'Our plan was to fly on Friday, but since we have been handed the fixtures, we receive it positively and we will honour it. We pray that there will be no injuries and this will be part of our final strength testing," Bullets CEO Fleetwood Haiya told Nyasatimes.com.
The return leg of Caf's elite club competition is set for December 5 in Malawi.