Ghana
Nyantakyi 'will not resign' as Ghana FA president
10:04 PM GMT+4
14/02/2017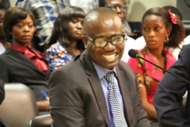 Kwesi Nyantakyi insists he is not ready to vacate his position as Ghana Football Association president, despite growing calls for him to step aside.  
The 47-year-old was elected in 2005, succeeding Nyaho-Nyaho Tamakloe, and currently serving his third term in office which runs until 2019.
A section of Ghanaians have been critical of his administration of late, following the Black Stars' debacle at 2017 Africa Cup of Nations in Gabon. Others blame him for the delay to the start of 2017 Ghana Premier League season due to litigations among clubs over 'unfair judicial verdicts'.
 "I can't understand why some people are calling on me to step down from my role as the Ghana FA president. Why must I resign and for what crime?" Nyantakyi told Neat FM.
"They should allow the delegates who voted me into power last year to decide when my third term ends in 2019. Some people should also relax because the Ghana FA leadership role is not a life and death affair," he added.
The Fifa executive council member also challenged those who believe he is corrupt to face him in a debate.
"Those people that are accusing me should select the best three journalists in the country and present them to face me in a debate. If they're not able to present those journalists to challenge me on my leadership and performance at the football association, they should shut up and sit somewhere and allow us to have our peace of mind," he said.
"Sometimes, some people think we are children in this country or unwise. Although, I am from a village, I am not a fool. If we come from a village, it doesn't mean we're stupid and so a person who stayed in the city must be listened to because he or she lives in Accra or Kumasi or somewhere else," Nyantakyi fumed.
"It should not be like that. You must make a cogent point which will be compelling to me. To even resign is my personal decision. And you're on radio saying I should resign, come and force me to resign. Write the letter for me to go!"