A-League
'Not good enough'- Josep Gombau reflects on Western Sydney Wanderers' season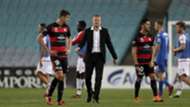 Given the unenviable task of replacing Tony Popovic without a pre-season to work with, Josep Gombau was always going to have his work cut out for him with Western Sydney Wanderers.
The Spaniard took the reigns two months into the season and though he had what appeared to be a strong squad at his disposal, wasn't able to steer them to the finals.
A 3-2 loss to Adelaide United on Sunday meant the Wanderers allowed Brisbane Roar to claim sixth spot and sees the red and black miss finals for just the second time.
While the manner of his appointment is worth taking into consideration, Gombau himself admits the season wasn't up to scratch for a club used to success.
"Not good enough," Gombau said post-game. 
"If you see the season there's been a lot of ups and downs.
"In a position now where we are not in the finals. I know this is disappointing for everybody."
With reports of discontent inside the dressing room and Gombau seemingly locking down four new players for next season according to the Covert Agent, the club has clearly had an eye on next season for some time. 
Gombau won six, drew five and lost nine of his A-League games in charge of Western Sydney this season and says he won't ignore those results looking ahead. 
"Now we need to do a review of the season and as a club move forward," he said.
"We're in a cycle now that we're not getting results and we need to change.
"Today we finish one season and tomorrow we need to start the next one."
The turning pointing of the match against Adelaide appeared to be Keanu Baccus' red card in the second half with the VAR spotting the young midfielder kick out at Johan Absalonsen. 
While replays and images of Absalonsen's knee suggest the 19-year-old was guilty, Gombau was quick to defend his player.
"For me it was a difficult one, for me Keanu didn't have any intention to kick to opposition player," Gombau said.
"He is a player without any bad intentions.
"Really it's not an action to send off a player… I don't think it's fair."