Portugal
No more arguments! If Ronaldo wins Euro 2016, he's had a better career than Messi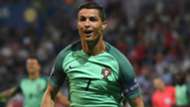 ---

COMMENT
---
Lionel Messi might have more natural talent, more titles and more Liga goals but Cristiano Ronaldo has proven at this European Championship to have a quality lacking in the Argentine. Guts.
It was impossible not to be impressed by the leadership Ronaldo showed in the quarter-final penalty shootout against Poland. He cajoled and encouraged Joao Moutinho from the bench, persuading the midfielder to step up. Moutinho missed his penalty kick against Spain in the 2012 semi-final shootout – Ronaldo never got a chance to take his designated fifth kick that time around.
"If we lose, f*ck it," Ronaldo said. "It's in God's hands now." He empowered his team-mate and immediately lifted the pressure for Portugal's progress off his shoulders. That armband festoons the biceps of Ronaldo for good reason. He is a leader of men and is proving it game by game this summer.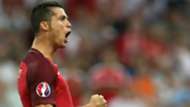 That quarter-final was one of the four scoreless games Ronaldo has endured at these finals. He has worked hard, sacrificed himself and has become noticeably less occupied with his own output on the field. No one could doubt how much qualifying for the semi-final against Wales meant to Ronaldo when seeing him pacing inside the centre circle during the shootout in Marseille. He was anxious, praying to God that his team-mates would get it right and a Pole would get it wrong.
Ronaldo has always said it's a dream to win a title in the colours of his national team and, at 31, he is not going to get many better opportunities than now. That dream is becoming a reality but not simply because Ronaldo wishes it to be so. He is working hard for it. His terrific headed goal and assist against Wales were deserved, placing Portugal in their first final in 12 years.
Aged 19 at Euro 2004, Ronaldo impressed the world with his calmness and suitability for the big occasion. He scored in the semi-final there too, against the Netherlands. There was a World Cup semi-final against France two years later and again in 2012 at the European Championship, but Ronaldo's international career looked like it was going to come up short.
Spain and Germany loomed large over the continent of Europe and the world. The player production techniques in those two countries - boasting huge populations - made Portugal's efforts look puny by contrast. Sure, players got through here and there but not in the same volume.
While Spain were welcoming their Golden Generation of Xavi, Carles Puyol, Andres Iniesta and Sergio Busquets, Portugal were waving goodbye to theirs. Luis Figo, Rui Costa, Fernando Couto and Vitor Baia were idols of Ronaldo when he was growing up but they departed the scene and left the young winger as the lonely carrier of Portuguese hopes. By and large he has fulfilled that role.
He is captain, all-time record appearance holder, all-time top goalscorer. He has scored in four European Championship finals – the first man to do that. He is the top scorer in European Championship competition – finals and qualifiers – and has just equalled Michel Platini's record of nine tournament goals. His four goals across two legs in the 2014 World Cup play-off against Sweden probably helped him eclipse Figo and the great Eusebio in Portuguese collective consciousness. He is their greatest-ever player and has a chance to do what Figo or Eusebio never could – lift a trophy.
There have been titles aplenty at club level too; three Champions League titles with two different clubs, leagues, cups, super cups, individual scoring awards by the dozen and those three Ballon d'Ors. He has done it, too, with many different coaches, many different styles of play. He hasn't always been happy but his football scarcely suffered.
Lionel Messi didn't have to contend at Barcelona with the drama that saw Manuel Pellegrini leave and Jose Mourinho plunge Real Madrid into institutional meltdown. He didn't have to live through the browbeaten Rafa Benitez 'era'. That club is defined by its state of chaos. Ronaldo transcended that.
Messi had things, by and large, his own way at Barcelona. He handpicked Tata Martino for that coaching job. It is reported that a one-on-one meeting with Alejandro Sabella in 2011 convinced him not to turn his back on Argentina. He was duly delivered the captaincy and his preferred role in the team. As we learned following his benching by Luis Enrique in January 2015 for a league game at Real Sociedad – a decision for which the coach nearly got the sack – he wields considerable influence on team matters at Barcelona too.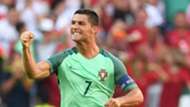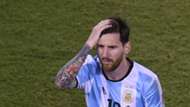 He has been catered for, in a football sense and a political one, at club and country. Ronaldo – noted by every coach he's worked with for his supreme will to train and improve – is less demanding.
He is a different player these days. He is unlikely to be seen galloping down the wing with the ball at his feet, beating man after man and curling shots inside the far post. He is adapting to a new reality. His game is about conserving energy for the right time to strike. There is a little less spring in the step, a little less elasticity about those famous step-overs. What he lacks for in the ability to commit defenders and go completely by them he makes up for in other ways.
This is not a perfect Portugal team and they are not playing attractive football but there is a stubbornness, a determination in the group that many thought a team containing Ronaldo could never convey.
Ronaldo and Messi will forever be defined by their individual rivalry but if Ronaldo leads Portugal to a first-ever international title there can be no doubting who will have had the more successful career. He will have done what Messi could never do - win with his country.
There is a culture of champions in Argentina – two World Cup-winning teams, the myth of Diego Maradona – that is not apparent in Portugal. Their international history is the odd great player here and there with no huge collective success stories to inspire the next generation.
Argentina is the opposite. Their team in 2014 – the one that failed to follow Maradona to the history books – was perhaps their best ever. Lionel Messi would never have a better chance to win the World Cup. He recoiled in the knockout rounds, the odd good pass aside, and missed a huge chance to win the final. He has blown three Copa America finals too for good measure – in 2007 when victory looked assured, in Chile last year and of course in New Jersey just a couple of weeks ago which drove him into international retirement.
The lack of international honours – and a largely indifferent spell in the national team shirt – will always be held up against Messi as a black mark. Without his Barcelona comfort blanket, the task looked too big.
If Portugal win this Euro, every one of the squad will have played their part and Ronaldo will have led them to the title with self-sacrifice, humility and hard work.
Goal journalists are powered by the Samsung Galaxy S7 and Gear 360