World Cup
Nigeria vs Iceland: Live blog, text commentary, line-ups, stream & TV channel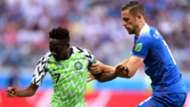 Well that result has blown this group wide open! Croatia have confirmed qualification, but each of the other three nations can still make it to the knockout stages. Musa hit an outstanding double, rifling home after Moses' pacy counter-attack, before cutting inside from the left and rounding the goalkeeper for the second. Gylfi Sigurdsson missed a late penalty - awarded courtesy of VAR - as Iceland desperately searched for a way back into the game, but they just couldn't muster enough going forward. It finishes 2-0 to Nigeria! 
FULL-TIME: NIGERIA 2-0 ICELAND
---
90+6 Mins: BLOCK! Ighalo wins a long ball and holds it up against Ingason, before laying it off to Iwobi, whose shot is blocked away from the edge of the area! 
90+4 Mins: Mikel is down holding his wrist, and it doesn't look good for him. Nigeria have used all three substitutions, however, so he'll either have to continue or his side will have to play the remaining two minutes with 10 men. 
90+3 Mins: A flowing Iceland attack results in Saevarsson placing a low cross into the middle, but it's scrambled away by the Nigerian defence.
90+1 Mins: Etebo comes off for Iwobi in a surprisingly attacking move by Rohr, sacrificing a holding midfield player for a creative forward in the form of the Arsenal man.
87 Mins: Gunnarsson now makes way for Skulason as Iceland search desperately for an equaliser. 
85 Mins: That shot is Iheanacho's last meaningful contribution to the game as former Watford striker Ighalo replaces him
83 Mins: PENALTY MISSED! Gylfi Sigurdsson goes for the top-right corner and fires it over the bar! He took a short run-up and watched the goalkeeper dive the wrong way, but couldn't hit the target! That might put an end to Iceland's comeback hopes.
80 Mins: PENALTY! Finnbogasson races into the box and Ebuehi clips him at the byline! The referee doesn't give it initially, but following a VAR check, the referee points to the spot! 
78 Mins: Iceland lok a little shellshocked. They're still pushing forward to try and get something from this game, though. 
75 Mins: GOAL!!!! MUSA STRIKES AGAIN! NIGERIA GO 2-0 UP! Musa races down the left and beats his man for pace, before cutting inside him and then rounding the charging goalkeeper, then picking his spot and rifling it into the top corner! 
74 Mins: CROSSBAR! Musa rattles the crossbar with a wicked, curling strike that fools the goalkeeper into comitting to his left while the strike comes back into the middle, but it clatters back off the bar!
71 Mins: Bodvarsson comes off for Sigurdarson in a like-for-like change up front by Hallgrimsson, who looks to inspire his side to an equaliser. 
70 Mins: MISS! Troost-Ekong throws himself at a cross from the right, but he can only head wide from a difficult angle. 
69 Mins: Ingason shows great bravery to come out and block a powerful Etebo strike from outside the box. The midfielder had all the time in the world there to line up his strike. 
67 Mins: MISS! Gislason has had some joy coming inside off the right, and he works some space well in the middle here before blasting an effort high over the bar from the edge of the box. 
65 Mins: Ragnar Sigurdsson eventually is forced off, with Ingason taking his place at centre-back. 
63 Mins: Gylfi Sigurdsson's free-kick is disappointing, however. He elects to clip the ball into the box instead of shooting, and it's an easy catch for Uzoho. 
62 Mins: Ndidi clatters into Gislason, who had come inside off the right, culling a dangerous attack. He somehow escapes without a booking, however. 
61 Mins: CHANCE! Moses drives to the edge of the box and slips a ball inside for Musa, who is allowed to turn and tries to pick out Iheanacho, but it's cut out! Slick play form Nigeria inside the box there. 
59 Mins: The Iceland supporters begin their famous clap again, trying to lift their team as they pile forward for a corner. What a noise they're making! 
57 Mins: SAVE! Ndidi smacks a fantastic, dipping strike from the edge of the box that takes a little deflection on its way through, but Halldorsson does really well to tip it over the bar! 
55 Mins: Iceland lump it forward as they start to pin Nigeria back, but there's not enough creativity in their passing to unlock the door. 
53 Mins: Iceland look to muster a response as they start to commit men forward, but this was certainly not their gameplan. 
51 Mins: Ragnar Sigurdsson is down in the aftermath of that goal, having collided with Musa following his excellent strike. He emerges with a bandage around his head, and potential substitute Ingason takes his seat again.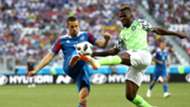 49 Mins: GOAL!!!! NIGERIA MAKE THE BREAKTHROUGH! It's 1-0 here as Musa finishes off a quick counter-attack in some style, controlling Moses' cross and rifling home a thunderbolt of a strike from inside the box! Game on!
48 Mins: The game looks a little more open so far at the start of this half, with both sides attempting a few more forwards passes.
46 Mins: Nigeria attack straight away. They win the ball from kick off where Etebo makes a run from his own half before a weak shot at the keeper from 25 yards. 
Nigeria Sub: Idowu, who was booked in the first half, is replaced by Ebuehi as Rohr looks to spark his side into life.
---
Nigeria need to bring someone on to help them make more of their possession and link midfield to attack - perhaps Iwobi will be introduced for one of the three holding midfield players they are currently employing. Iceland are just about on top, but need to convert one of their half-chances. If they score first, you fancy them to hold onto their advantage and see the game out. 
After a couple of early chances for Gylfi Sigurdsson forced decent saves out of Uzoho, the game tightened up a bit, with lots of meanigless possession for Nigeria as Iceland sat deep and tried to hit on the break. Nigeria hardly created anything of note, while their opponents looked dangerous from crosses, but were just unable to make a breakthrough. 
HALF-TIME: NIGERIA 0-0 ICELAND
---
45 Mins: CHANCE! Sigurdsson's resulting free-kick delivery is outstanding, but Finnbogasson just can't quite connect with it and it glances just wide of the goal! Best chance of the half.
44 Mins: Bodvarsson gets to a flick on first, before Idowi clatters into him and brings it down, picking up a yellow card.
42 Mins: There's an awkward ball for Halldorsson to deal with as Musa breathes down his neck, but the forward gets a little too eager to prevent the ball running out of play and barges the Icelandic keeper over, conceding a free-kick. 
41 Mins: CHANCE! Bjarnasson gets to the byline and pulls it back for Finbogasson, but it's just behind him! Good link up on the right to get in there, but the striker didn't read the pull-back. 
39 Mins: Moses drives forward and stays on his feet well this time, but there's limited Nigerian support in the box, and in the end a hopefull ball forward by Musa is collected gratefully by Halldorsson. 
38 Mins: Moses goes down a little easily on the right and wins a free-kick. Iheanacho whips it in, but it's too low and is cleared for a throw. Musa tries to launch it into the box, but that, too, is defended well. 
36 Mins: CHANCE! A deep cross to the back post from the right sails towards Bodvarsson and Bjarnasson, but they get in each other's way and it goes out for a throw! 
34 Mins: Gislason tries a darting run infield from the right with the ball at his feet, but he's muscled off it on the edge of the box, and is furious not to be awarded a free-kick. 
32 Mins: Nigeria have settled into their usual pattern of play so far in this game. Iceland have two up and the rest have retreated into their half in two, compact banks of four, while Nigeria play the ball around just inside their own half as the three central defenders and Mikel outnumber the two Icelandic strikers. 
30 Mins: Bodvarsson wins the ball high up the pitch, but he can't find a penetrating pass to make the most of it and the move slows down, allowing Nigeria to get back and regroup.
26 Mins: There's the suggestion that Iceland are perhaps struggling with the heat here, and they've certainly not been their usual, energetic selves thus far. 
24 Mins: Iceland lump it forward from a free-kick just outside the centre-circle, but it's headed confidently away by Omeruo. 
22 Mins: Iceland are piling on the pressure, testing Uzoho again and winning a corner, but they just can't quite make the pressure count as Nigeria win a free-kick and momentarily alleviate the danger. 
21 Mins: Uzoho is called into action again as he rises highest to tip away a right-wing cross, before Bjarnasson smashes a volley at Moses, who goes down in a heap. Uzoho is called into action again as he rises highest to tip away a right-wing cross, before Bjarnasson smashes a volley at Moses, who goes down in a heap. 
20 Mins: Gylfi Sigurdsson produces a lovely turn in midfield, beating Etebo with ease. That was a quality piece of skill there
19 Mins: Moses drives inside into some rare space and tries to link up with Iheanacho, but his pass is just behind his man. 
17 Mins: Nigeria try a long throw as they push Iceland all the way back into their own penalty box, but it's just a little too short and it's headed emphatically away. 
15 Mins: Iceland have their own spell of penning Nigeria in, but they can't find a way through either. They're cancelling each other out at the moment. 
13 Mins: Iceland get out as they win a throw-in, forcing Nigeria to retreat into their own shell. These two sides are both looking to sit deep off the ball and break quickly on it. 
11 Mins: Nigeria growing into the game here after a flurry of early chances for Iceland, but they're still struggling to break their opponents down and create any meaningful openings. 
9 Mins: Nigeria have a spell of possession, but it's all in front of their opponents and there's no penetration in their passing. Iceland are more than happy to sit in and absorb pressure. 
7 Mins: Iheanacho goes out to take an inswinging corner from the right with his left foot. Interesting decision to have a striker take a corner, but it's a good delivery from the Leicester City man. It's well dealt with in the middle though. 
6 Mins: SAVE! Gylfi Sigurdsson is played into space on the edge of the box and tries to place a shot into the bottom-right corner, but Uzoho gets down well and holds the shot. He's been a busy man early on here. 
4 Mins: Uzoho then comes to to collect confidently from the resulting corner. He looks to be on his toes so far. 
3 Mins: SAVE! Iceland win a promising free-kick in a central area 25 yards or so from goal. Gylfi Sigurdsson whips it towards the top-left corner, but Uzoho reads it well and tips the effort behind. 
1 Min: Kick-off, the game is underway who will capitalise on Argentina's poor performance last night?
---
National anthems are done and we are minutes from kick off.
15 mins til KO: Meanwhile, World Cup debutants Iceland have lost just one of their six matches in major tournaments (W2 D3 L1).
Nigeria have won just one of their last 13 games at the World Cup (W1 D3 L9), losing their last three, with that solitary victory coming against Bosnia and Herzegovina in 2014.
20 mins til KO: There has only been one previous meeting between Nigeria and Iceland, with the latter winning 3-0 in a friendly in August 1981.
Iceland are without Johan Berg Gudmundsson after he tore his calf muscle in their inspiring 1-1 draw against Argentina. He has been replaced by Gislason in the side, while Hallfredsson also drops to the bench as Heimir Hallgrimsson opts for two up top today, bringing in Bodvarsson and dropping Gylfi Sugurdsson into central midfield. 
25 mins til KO: Gernot Rohr has made three bold changes to the side that lost 2-0 to Croatia in their opening fixture, dropping Ighalo, Iwobi and Shehu for Iheanacho, Musa and Omeruo, and changing to a  back three.
30 mins til KO: Iceland XI (4-4-2): Hannes Thor Halldorsson; Hordur Bjorgvin Magnusson, Ragnar Sigurdsson, Kari Arnason, Birkir Mar Saevarsson; Birkir Bjarnason, Aron Gunnarsson, Gylfi Sigurdsson, Rurik Gislason; Jon Dadi Bodvarsson, Alfred Finnbogason
35 mins til KO: Nigeria XI (3-5-2): Francis Uzoho; Kenneth Omeruo, William Troost-Ekong, Leon Balogun; Brian Idowu, Oghenekaro Etebo, John Obi Mikel, Wilfred Ndidi, Victor Moses; Ahmed Musa, Kelechi Iheanacho.
40 mins til KO: Hello and welcome to our LIVE coverage of the Group D clash between Nigeria and Iceland at the 2018 World Cup in Russia! The line-ups have been announced, and we'll start with Nigeria.
---
Squads & Team News
---
Nigeria XI: Francis Uzoho; Kenneth Omeruo, William Troost-Ekong, Leon Balogun; Brian Idowu, Oghenekaro Etebo, John Obi Mikel, Wilfred Ndidi, Victor Moses; Ahmed Musa, Kelechi Iheanacho
Nigeria subs: Elderson Echiejile, Simy, Ogenyi Onazi, Tyronne Ebuehi, Joel Obi, Daniel Akpeyi, Odion Ighalo, John Ogu, Abdullahi Shehu, Ikechukwu Ezenwa, Alex Iwobi, Chidozie Awaziem
Iceland XI: Hannes Thor Halldorsson; Hordur Bjorgvin Magnusson, Ragnar Sigurdsson, Kari Arnason, Birkir Mar Saevarsson; Birkir Bjarnason, Aron Gunnarsson, Gylfi Sigurdsson, Rurik Gislason; Jon Dadi Bodvarsson, Alfred Finnbogason
Iceland subs: Johann Berg Gudmundsson, Bjorn Sigurdarson, Olafur Ingi Skulason, Runar Alex Runarsson, Samúel Kari Fridjonsson, Arnor Ingvi Traustason, Holmar Orn Eyjolfsson, Emil Hallfredsson, Albert Gudmundsson, Ari Freyr Skúlason, Sverrir Ingi Ingason, Frederik Schram
---
TV Channel, Live Stream & How To Watch
---
In the United States (US), the game can be watched live and on-demand with fuboTV (7-day free trial).
New users can sign up for a free seven-day trial of the live sports streaming service, which can be accessed via iOS, Android, Chromecast, Amazon Fire TV, Roku and Apple TV as well as on a web browser.
In the United Kingdom (UK), the game can be watched live on TV on ITV or streamed live online using the ITV Player.
| UK TV channel | Online stream |
| --- | --- |
| BBC | BBC One |