University of Pretoria
NFD Week 15 Review: Log leaders Highlands Park held, AmaTuks suffer shock defeat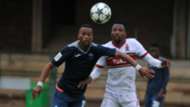 HIGHLANDS PARKS vs. CAPE TOWN ALL STARS
On Saturday's matches, the NFD log leaders Highlands were surprisingly held by Cape Town All Stars to a goalless draw at Makhulong Stadium, Tembisa. The draw sees the leaders enter the 30 point mark on the halfway of the current season.
ROYAL EAGLES vs. UBUNTU CT FC
Royal Eagles earned a 4-2 win against their relegation rivals, Ubuntu CT FC at Harry Gwala Stadium. The win saw Royal Eagles escape the relegation places and jump to 13th place in the league standings.
UNIVERSITY OF PRETORIA vs. REAL KINGS FC
Shaun Bartlett's AmaTuks suffered a 3-2 loss against Real Kings FC at ABSA Tuks Stadium which dented their prospects of cutting the gap of the NFD leaders, Highlands Park before the Christmas Break begins. AmaTuks will feel a loss here was not needed instead they should have got a result that would have boosted their play-off prospects. The win for Real Kings sees move to fourth place with 24 points, and a point behind University of Pretoria.
TTM FC vs. SUPER EAGLES
TTM FC played to a goal fest 3-3 draw against Super Eagles at Thohoyandou Stadium. The draw sees the hosts enter the Christmas Break at eighth place whilst Super Eagles have a bit of breathing space from the relegation zone, where they lie at 12th place.
WITBANK SPURS vs. STELLENBOSCH FC
Witbank Spurs beat Stellenbosch FC 3-1 at Puma Stadium, Witbank. This was the first win in a long time for the home side which sees them enter the top seven of the NFD whilst Stellenbosch FC missed a good chance to enter the top three of the NFD and end 2017 on a high.
MBOMBELA UNITED vs. UTHONATHI FC
Mbombela United drew 0-0 against Uthongathi FC at Kanyamazane Stadium, Mbombela. Mbombela United dropped crucial points that would have aided their cause to assert their drive for a promotion place but it was not to be, as the away side held on for a precious point.
RICHARDS BAY vs. BLACK LEOPARDS
Black Leopards unbeaten run came to an end after they suffered a 2-1 defeat at the hands of Richards Bay at Umhlathuze Sports Complex on Saturday. This win for the hosts saw them move up to 14th place ahead of Mthatha Bucks and Ubuntu CT FC.
JOMO COSMOS vs. MTHATHA BUCKS
Ezenkosi defeated Mthatha Bucks 2-1 at Vosloorus Stadium, Johannesburg on Sunday. The win sees Cosmos end 2017 at second place on 28 points, two points behind Highlands Park. The winning goals for Cosmos came via Tebogo Makobela and Tebogo Tlolane.
With the first half of the season concluded, only six pints separate the top five, and on the bottom half, the relegation dogfight keeps heating up week by week.