International Champions Cup
Neymar's pre-season form shows there's no one like him on the transfer market
LANDOVER, Md. — A day after thousands of fans at FedEx Field chanted for Neymar to stay with Barcelona, he gave them more reason to want him to do so. In 45 minutes of action, he scored the winning goal, put an additional shot on target and led the team with three chances created in the Blaugrana's 1-0 win over Manchester United in the International Champions Cup.
By the second half, Neymar already was wearing a Barca polo. After the match ended, he was sporting a backwards hat while chatting with Manchester United midfielder Paul Pogba. For now, the persistent rumours claiming he's leaving Barcelona for Paris Saint-Germain were quiet
"The news on Neymar is he's very happy to talk with some of his friends from Manchester," Barcelona manager Ernesto Valverde said at his post-match news conference. "There's no more news. He's with us."
Valverde will hope that continues to be the case. With three goals in two preseason matches, Neymar has shown just how important he can be to Barcelona — and also why he's so coveted by PSG, who many believe are willing to pay €222 million to get him.
Sure, Barcelona have a plan in case the Brazilian is lured away by PSG. Any club would have to have a Plan B and a Plan C when losing a player with Neymar's skillset. But while Marco Verratti and Ousmane Dembele are excellent, they're not Neymar. In addition to losing Neymar, it would also be a reset of the time MSN have spent getting to know each other, learning their tendencies.
With none of the South Americans obligated to play in a tournament this summer, Lionel Messi, Luis Suarez and Neymar looked fresh in the first half against United. Neymar's relationship with Messi — whether Messi played a one-two with him or Neymar cheated inside to cut the distances between them and work together through the middle — was on full display. Messi may be the easiest player in the world to play with, but you still have to figure out where he's putting the ball as he learns your tendencies. It's no secret that the members of the trio understand their roles.
Getting replacements for Neymar up to speed with less than a month before the season begins would not be easy. In La Liga, dropping results at any time can spell the end of title hopes with Real Madrid. The team already are acclimating to what Valverde wants; adding two new players to the mix isn't the recipe for success.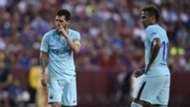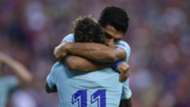 In the previous days, there has been a sentiment from both sides. Neymar's Barcelona team-mates have pointed out there is no other player like Neymar available in the transfer market, nobody who could serve as a direct replacement for what he provides. Manchester United manager Jose Mourinho, who got his forward in the market but is still hoping for two more signings, knows you can't just find a player like Neymar.
Mou's coup De Gea limits damage
"Messi and Neymar, there is only one — one Messi and one Neymar. There are not two," he said before listing other Barcelona and Real Madrid players he considers to be at an elite level. For the United coach, what Neymar can do is able to transcend game plans.
"Their relation with the ball is amazing," Mourinho continued. "You can argue about occupation of spaces and tactics and compact blocks and you can speak about all of that but the relation with the ball is still the most important thing and even as an opponent on the bench like I am, it's beautiful to see a few guys, their relation with the ball."
"Se queda," the words Gerard Pique tweeted several days ago that seemed to be definitive turned out to be more hopeful than anything, but Barcelona must do everything they can to make sure Neymar does stay. If his 2017-18 is anything like the build-up for it, it'll be an incredible year for the 25-year-old no matter what colors he's wearing.