Ligue 1
Neymar on his recovery and Dani Alves the big kid - Ligue 1 goes social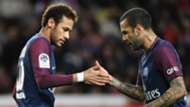 The footballing world was left stunned on Saturday as Fiorentina captain and Italy international defender Davide Astori was found dead in his hotel room ahead of a Serie A match against Udinese, aged only 31.
The news resonated around the globe, with several Ligue 1 stars passing their condolences to the family of the former AC Milan youth.
One man who was particularly affected by the news was fellow Italy international Mario Balotelli.
"There are no words," the Nice attacker posted on his Instagram account. "RIP and you will always be in our hearts Davide."
Paris Saint-Germain forward Kylian Mbappe also passed on his well wishes.
"Terrible news," the teenager said. "All my condolences to his family and those close to him. Rest in peace."
‬‬‬
Neymar, meanwhile, underwent surgery on a broken foot on Saturday, which PSG announced was successful. The Brazilian will be assessed in six weeks' time to give an indication of when he can start training again, but he is clearly determined to come back as strong as ever.
"Obstacles should not stop you," he told his Instagram followers. "If you find a wall, don't give up. Find out how to climb it."
Like the Brazilian, Mbappe missed Saturday's 2-0 win over Troyes due to injury, but Balotelli had been on target on Friday evening as Nice won 2-1 over Lille and posted the goal the following morning, with the tag "Good morning".
There seemed to be a bout of craziness going around the league, too, led by Balotelli, who posted this picture of himself.
When it comes to madness, though, no-one can match Dani Alves.
"It's small, it's intense and it's true," he said when he posted a picture of himself with his kids. Dani, however, was undoubtedly the maddest of the trio.
The former Barcelona and Juventus man, though, does not need children around for his inner kid to come out. He proved that with an Instagram post later the same day.
Sometimes there are no words, although Dani tried. "Good cra32 mood," he said.
He was left on the bench at the weekend but came on in the closing stages of the victory against Troyes at Stade de l'Aube. His recent form has not been to his usual high standard, but he was pleased with the cameo he made off the bench on the right wing.
"You have two paths in your career, give excuses or give results… I chose the second option today," he said. "If you want something in life or succeed at something, save the excuses and start giving results!!"
At one stage in the second half, he had the ball in the net, though his effort was controversially chalked off due to offside. He protested the decision at the time and took to social media with evidence that his effort should have stood.
Alves is slated to start on Tuesday, when PSG welcome Real Madrid in the second leg of their Champions League last-16 clash, and one can only imagine how angry he'd be if a similar effort was disallowed in that encounter, which is the focus of Unai Emery's side at present.
Until then, the craziness will have to be put to one side and their focus will have to be perfect.