José Mourinho
Neville backs Mourinho & tells Man Utd fans: This isn't an unsuccessful period!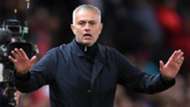 Manchester United legend Gary Neville has defended manager Jose Mourinho amid recent criticism and calls for him to lose his job.
The Red Devils find themselves 10th in the Premier League, seven points behind the Champions League spots with nine matches of the season played, yet the former England defender has backed the Portuguese to turn things around.
Indeed, he believes it would be counterproductive to axe the former Chelsea and Real Madrid boss at this juncture, despite calls from ex-players and supporters that the time is right for him to go.
"Forget everything else. If Jose Mourinho left Manchester United today then in his two-and-a-half years he will have won two major trophies, lost an FA Cup final, finished second in the league and qualified for the Champions League two seasons running," he said, as quoted by the Manchester Evening News.
"And had the best finish in the Premier League since Sir Alex retired. If Jose left today he would tell that story. And we are looking at it from the point of view of perfection.
"If you had said they would have this three-year period when I was a United fan as a kid, I would have snatched your hand off. In my childhood we won two FA Cups in 11 years!
"It doesn't help that Man City and Liverpool are doing so well. So there are a lot of factors.
"It is only a period in a 20-year management career and I think Jose will be successful again."
Neville has stressed the importance of not measuring every Manchester United manager against the achievements of Sir Alex Ferguson, who led the club through a long period of success.
"I do get Jose Mourinho's part of it as well when he says: 'Hang on a second, let's not rewrite history'," he added.
"He's compared to history, and he should be. Even if you compare it to his own record. He would only compare it to his own record and history. In some ways he won't be accepting what's happening at the moment, but if we're being balanced – and I'm thinking partly as a fan – you've got to look back at the bigger picture.
"In my 43 years of living, this is not an unsuccessful period. This is not an unsuccessful period in Manchester United's 100-plus year history. This is an unsuccessful period compared to the glory years. And the glory years should be where we measure the club by, always. Fans, media and pundits. But we should all have perspective as well."
He also stressed that the Red Devils remain far more successful than many of their rivals.
"When you think about Manchester United in the bad times - and this seems a bad time – the club still wins trophies," he said.
"If you look at the last five years since Sir Alex finished, an FA Cup, a Europa League, a League Cup, and FA Cup final, that's three trophies in five years since Sir Alex Ferguson left. Liverpool haven't won a trophy, Tottenham haven't won a trophy, Arsenal: two cups. Manchester United are more successful than all of them."