Bayern München
Never write off Bayern! Hitzfeld backing defending champions to land Bundesliga crown the hard way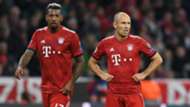 Former Bayern Munich boss Ottmar Hitzfled has told Goal and SPOX that it would be foolish to write off Niko Kovac's side in 2018-19, with it likely that they will still end the season as Bundesliga title winners.
The reigning champions have endured an uncharacteristically shaky start to the defence of their crown, with it suggested that domestic supremacy in Germany may be about to change hands for the first time in seven years.
Bayern, with six successive triumphs to their name, currently sit fifth in the standings, seven points back on table-topping Borussia Dortmund after suffering three defeats through their opening 11 games.
Pressure is building on an ageing squad and a coach only handed the reins over the summer, but Hitzfeld believes it is too early to be penning their demise and feels another celebration will be staged at the Allianz Arena come May 2019.
He told Goal and SPOX: "First of all, it is enormously important for the Bundesliga that tension finally builds. After all, this is what everyone longed for. 
"Now Dortmund are in front again because they have played really well. The question will be how they deal with setbacks. 
"I still believe that Bayern will be champions in the end. The season is long and Bayern should never be written off."
The struggles in Munich to this point have seen questions asked of Kovac's ability to deliver the results expected of him, but the Croat is considered to be the right man for the job and is being backed to come good once underperforming players rediscover their form.
Hitzfeld added: "If things are not going well, you always have to live with criticism at Bayern. 
"And then, of course, the players have to stand up, which they are not used to. That should not be overstated. 
"I think very highly of Niko Kovac. He is a leader and a personality and therefore definitely the right coach for Bayern Munich. 
"But of course he also needs the quality around him to get the most out of his side. And that is currently missing in the squad."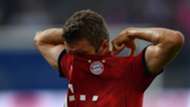 Bayern have faced accusations of failing to freshen up their ranks as star turns have passed their prime, with exits being mooted for the likes of Javi Martinez, Jerome Boateng and Thomas Muller – who all boast an enviable collection of major honours.
"It's too early for a verdict," said Hitzfeld on the transfer talk.
"But every player is now under scrutiny and has to prove that Bayern cannot do without him."
He added when pressed on whether more changes should have been made in the last window: "If you succeed like Bayern have in recent years, then you often feel gratitude and loyalty to the players. 
"But now everyone knows that the club has to do something with transfers and rejuvenate. The bosses have said so clearly."
Bayern, who suffered a demoralising 3-2 defeat to Dortmund prior to the international break, return to action on Saturday with a home date against lowly Fortuna Dusseldorf.