African All Stars
Nansel Selbol aiming to bring glory to Nigeria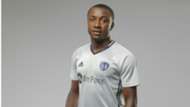 Sporting Kansas City's Nansel Selbol has revealed that his target is to bring glory to Nigeria.
The 19-year-old was on target as the Wizards ended the first leg preseason campaign with a 2-1 defeat to the New England Revolution on Tuesday at Kino Sports Complex in Tucson, Arizona.
Selbol was named in the Golden Eaglets' provisional squad for the 2013 Fifa U17 World Cup in the United Arab Emirates – but unfortunately did not make the cut.
But now, he is hoping to help bring honour to the three-time African kings following his blistering form in the American league.
''I want to bring the glory days of football back to Nigeria,'' Selbol told Goal.
''I will like to be invited to be part of the Super Eagles matches this year and to be involved in what I believe can be a golden generation for Nigerian football.
''To achieve this, I need to keep working hard and improving my game. This involves extra training and always striving to be the best.''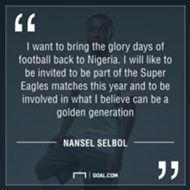 The 19-year-old midfielder who admires Brazilian legend Ronaldinho, played alongside Kelechi Iheanacho in Manu Garba's squad is pleased with the Manchester City rookie's growth and claims he gives him the zeal to do more.
''It is really great to see Kelechi and the others from my time with the U17 develop and grow the way they have,'' he continued.
''It requires a lot of sacrifice and hard work and that is what you have to do to become successful in this sport.
''Watching them play at that stage gives me the belief and desire to work extra hard to play at that level. It will be nice to pit my wits against Kelechi.''
He also revealed his desire to join "a big club" soon and said that Barcelona and Arsenal are the team which currently impress him the most.
''Right now European football attracts the best players,'' he added. '' I want to play at the highest level, so yes, I want to play in Europe.
''I believe I am ready to play in the top leagues in Europe. I dream to play for either Barcelona or The Arsenal. These are great clubs that play my kind of football.''