Arsenal
'Naive Arsenal need to be nastier' - Defensive leadership missing, says Keown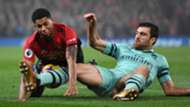 Arsenal are still suffering with "naivety" at the back, says Martin Keown, with "more nastiness" and greater leadership required by the Gunners.
Unai Emery has enjoyed a productive run through the opening months of his reign at Emirates Stadium, with his side currently on a 20-match unbeaten run.
There have, however, been frustrations along the way, with Arsenal leading twice at Manchester United in their most recent fixture before being pegged back in a 2-2 draw.
Keown believes that outing epitomises the issues which still exist in north London, with Emery requiring his defensive unit to manage games better and communicate more.
The former Gunners centre-half told the Daily Mail: "There is still a bit of naivety. I would like to see more nastiness in their back line.
"Arsenal went ahead twice at Old Trafford. When that happens, the attitude of the defenders has to be, 'It's down to us to keep this lead.'
"When the ball was in and around the box, I saw opportunities for Arsenal defenders to put a foot in but no-one really took charge.
"I look at the three centre halves — Sokratis, Shkodran Mustafi and Rob Holding, who is now injured —and think: 'Which one is going to develop into the leader?'
"I know Ander Herrera was offside for Manchester United's first equaliser but the Arsenal players were looking at one another wondering who was going to clear the ball.
"When I played in the Arsenal back four, the other three were constantly questioning me and I was asking the same of them. We would nit-pick the whole time.
"It was easy for me to come into that back four. The defenders were all snarling and desperate to win. These are the qualities that Arsenal's current defence must develop."
Arsenal, who have recorded just two Premier League clean sheets this season and none since September 29, will be hoping to look more solid at the back when they play host to Huddersfield on Saturday.